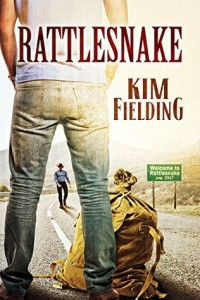 I bought a copy of Rattlesnake, by Kim Fielding.
Description from Goodreads:
A drifter since his teens, Jimmy Dorsett has no home and no hope. What he does have is a duffel bag, a lot of stories, and a junker car. Then one cold desert night he picks up a hitchhiker and ends up with something more: a letter from a dying man to the son he hasn't seen in years. 
On a quest to deliver the letter, Jimmy travels to Rattlesnake, a small town nestled in the foothills of the California Sierras. The centerpiece of the town is the Rattlesnake Inn, where the bartender is handsome former cowboy Shane Little. Sparks fly, and when Jimmy's car gives up the ghost, Shane gets him a job as handyman at the inn. 
Both within the community of Rattlesnake and in Shane's arms, Jimmy finds an unaccustomed peace. But it can't be a lasting thing. The open road continues to call, and surely Shane—a strong, proud man with a painful past and a difficult present—deserves better than a lying vagabond who can't stay put for long.
Review:
I thought this was a sweet little story. It's basically about two men falling in love, that's it, nothing flashy or exciting, but it's sweet. What saves it from being boring is that the two men in question are the type of men who rarely make it as main characters, a 43-year-old drifter/chronically homeless man and a 33-year-old crippled man with a traumatic brain injury. And the book proves that readers (or at least this one) don't need infallible, godly gorgeous, alpha men as heroes. I adored Chase and Jimmy (Chase especially).
It is a bit of an insta-love, which is unfortunate, because it's not really supported. I have no idea why Chase tried so hard to keep Jimmy around, but I'm glad that he did. I also thought it was a little on the predictable side. But again, it's a fairly straight forward romance, so it wouldn't have been overly realistic to have too many twists and turns. All-in-all, it was a book that made me happy to see the HEA (even if it did get a little sappy there at the end).