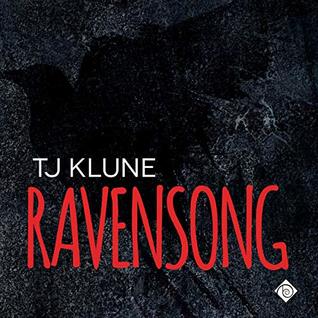 I borrowed an audio copy of T.J. Klune's Ravensong through Hoopla. I reviewed book one of the series, Wolfsong, last year.
Description from Goodreads:
Gordo Livingstone never forgot the lessons carved into his skin. Hardened by the betrayal of a pack who left him behind, he sought solace in the garage in his tiny mountain town, vowing never again to involve himself in the affairs of wolves. 
It should have been enough. 
And it was, until the wolves came back, and with them, Mark Bennett. In the end, they faced the beast together as a pack… and won. 
Now, a year later, Gordo has found himself once again the witch of the Bennett pack. Green Creek has settled after the death of Richard Collins, and Gordo constantly struggles to ignore Mark and the song that howls between them. 
But time is running out. Something is coming. And this time, it's crawling from within. 
Some bonds, no matter how strong, were made to be broken. 
Review:
Oh man, Klune broke me. I cried so much. Not big wracking sobs, but these quiet little tears that just slipped through. But I think maybe the narrator, Kirt Graves, was part of it too. Multiplying the effect. I thought he was too flat with a lot of the characters' dialogue. But he sure had the voice of agony and betrayal and longing down!
I did get a little annoyed with the repetitions. Some of it was purposeful, reusing the same phrases for effect. Some of it just felt like a lazy cut and paste job. Similarly, a lot of the abrupt flashbacks threw me for a loop. Maybe if I'd been reading it, instead of listening, it would have been more quickly apparent when a sudden shift was a flashback. But as it was, I often was momentarily confused.
All in all, however, I really enjoyed this. Even as it shredded my heart. And though I'm not a person prone to re-read books, I really think I'm gonna have to borrow Wolfsong and listen to it. I wish I'd done that before listening to Ravensong, honestly. So, I could have experienced them together.