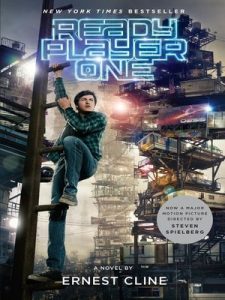 I borrowed an audio copy of Ernest Cline's Ready Player One from my local library.
Description:
In the year 2044, reality is an ugly place. The only time teenage Wade Watts really feels alive is when he's jacked into the virtual utopia known as the OASIS. Wade's devoted his life to studying the puzzles hidden within this world's digital confines, puzzles that are based on their creator's obsession with the pop culture of decades past and that promise massive power and fortune to whoever can unlock them. When Wade stumbles upon the first clue, he finds himself beset by players willing to kill to take this ultimate prize. The race is on, and if Wade's going to survive, he'll have to win—and confront the real world he's always been so desperate to escape.
Review (spoiler):
For those raised in the late 80s to early 90s this this was a sentimental cheese-fest of the best kind. But that's really what carries the book. I enjoyed revisiting the geekery of my youth, but found the story pretty flat. It was quite predictable, the descriptions of the above mentioned geekery got tedious, it's too dependent on coincidence and happenstance, and ultimately the ending of beat the baddy, get the prize and claim the girl was pat and unoriginal.
All in all, I wouldn't call it bad. I actually enjoyed it as a bit of fluff. But I wasn't super impressed either.
Thematically Will Wheaton was the perfect narrator for this book. He's even mentioned in it. (How odd must that have been for him to read?) He did a fine job, but I wouldn't say he was super engaging with it.