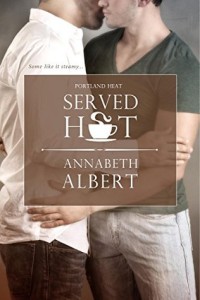 I received a copy of Served Hot, by Annabeth Albert from Netgalley.
Description from Goodreads:
In Portland, Oregon, the only thing hotter than the coffee shops, restaurants, and bakeries are the hard-working men who serve it up—hot, fresh, and ready to go—with no reservations…
Robby is a self-employed barista with a busy coffee cart, a warm smile, and a major crush on one of his customers. David is a handsome finance director who works nearby, eats lunch by himself, and expects nothing but "the usual"—small vanilla latte—from the cute guy in the cart. But when David shows up for his first Portland Pride festival, Robby works up the nerve to take their slow-brewing relationship to the next level.
David, however, is newly out and single, still grieving the loss of his longtime lover, and unsure if he's ready to date again. Yet with every fresh latte, sweet exchange—and near hook-up—David and Robby go from simmering to steaming to piping hot. The question is: Will someone get burned?
Review:
While the writing here was fine, the story was only OK for me. I thought the romance was very sweet, but the book is basically just Robby over-analysing and agonising over every little detail of his budding relationship with David. Large chunks of time were skipped over, making all that agonising seem rushed and pointless. He always seemed to be wanting more than David was ready to give and it felt needy and selfish.
I did appreciate that Robbie was half-Korean. It's nice to find a POC as a main character. I was disappointed to see him fulfilling most of the trite 'gay Asian ' stereotypes though, even as the author acknowledged them.
All in all, not a bad book and an easy read. But it's not particularly deep or moving in any manner.