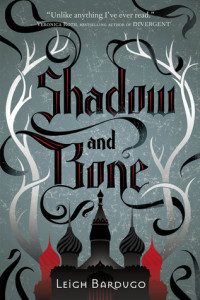 I bought a hardback copy of Shadow and Bone, by Leigh Bardugo.
Description from Goodreads:
Surrounded by enemies, the once-great nation of Ravka has been torn in two by the Shadow Fold, a swath of near impenetrable darkness crawling with monsters who feast on human flesh. Now its fate may rest on the shoulders of one lonely refugee.
Alina Starkov has never been good at anything. But when her regiment is attacked on the Fold and her best friend is brutally injured, Alina reveals a dormant power that saves his life—a power that could be the key to setting her war-ravaged country free. Wrenched from everything she knows, Alina is whisked away to the royal court to be trained as a member of the Grisha, the magical elite led by the mysterious Darkling.
Yet nothing in this lavish world is what it seems. With darkness looming and an entire kingdom depending on her untamed power, Alina will have to confront the secrets of the Grisha . . . and the secrets of her heart.
Review:
About two years ago I finished up my second Masters degree and decided all my tired brain wanted to do was read books that required very little mental involvement. YA books fit that bill perfectly. I subsequently went on a binge. I read a ton of them and bought even more. However, as I recovered my cognitive facilities, I grew bored with all the useless and frankly annoying teenage angst of these books and moved on. As a result I have a backlog of YA books sitting on my shelves (physical and digital) waiting to be read. Shadow and Bone is one such book. I'm not even sure why I picked it up this afternoon. The cover grabbed my eye, I think. ('Cause it's a great cover.)
To my complete surprise I didn't hate it. It wasn't full of Bella-esque drama and, while I'm not deeming Alina a wonderfully strong heroine, I didn't find her too-stupid-to-live either. I also appreciated that it wasn't a full love-triangle. I got scared for a while there, but it passed. The thing is though, while I didn't hate it, I didn't love it either. I don't even know that I liked it. And that's a strange place to find myself. I fully acknowledge that this is a well-written, well-edited, creative book. I consumed it in an evening. It's wonderful in it's own way, but also kind of bland.
It's like a store brand cheddar. It's a perfectly acceptable cheese. I'll slice it up and toss it on my sandwich and be perfectly happy with it. But it's not Brie. It's not my favourite. It's not something I'm excited to have gotten to eat and will remember. But I'm also notably not dissatisfied with it. Are you sensing my vacillation and painfully middle of the road feelings, here? Yeah.
Again, very well written. Again, a heroine I didn't hate. There was also a hero I liked (but didn't know well), a villain that was truly bad but had hints of multiple layers (but only hints) and side characters that were colourful enough to not just be filler. All good ingredients, mixed into a somewhat blasé whole.