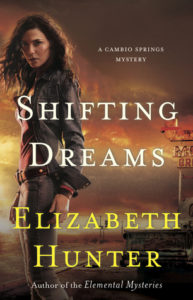 I downloaded a copy of Shifting Dreams (by Elizabet Hunter) from Amazon, when it was free. It was still free at the time of posting.
Description from Gooreads:
Somedays, Jena Crowe just can't get a break. Work at her diner never ends, her two boys are bundles of energy, and she's pretty sure her oldest is about to shift into something furry or feathery. Added to that, changes seem to be coming to the tiny town of Cambio Springs—big changes that not everyone in the isolated town of shapeshifters is thrilled about.
Caleb Gilbert was looking for change, and the quiet desert town seemed just the ticket for a more peaceful life. He never counted on violence finding him, nor could he have predicted just how crazy his new life would become.
When murder rocks their small community, Caleb and Jena will have to work together. And when the new Chief of Police isn't put off by any of her usual defenses, Jena may be faced with the most frightening change of all: lowering the defenses around her carefully guarded heart.
Review:
Surprisingly good
I found that I appreciated an Urban Fantasy comprised of characters with families, children. It was a change from the almost always early twenties UF heroine we're so often handed. I liked Jena and Caleb, Caleb especially, and both of her children were adorable. And the mythos of Cambio Springs was interesting.
I did get lost in all the names. There were a lot of side characters and they were hard to keep track of. I also thought Jena's freakout about sex (or moving forward with a relationship, signaled by sex) was cliched for a 30+ year old, widowed, mother or two. I wanted her to be more in control of that aspect of herself, but I also feel that such a reaction has become sadly expected in this sort of book and I hate that Hunter fell in line so easily.
All in all, however, I'd be happy to read more of this series.