I snagged a copy of Siege Weapons (by Harry F. Rey) from the publisher, Nine Star Press.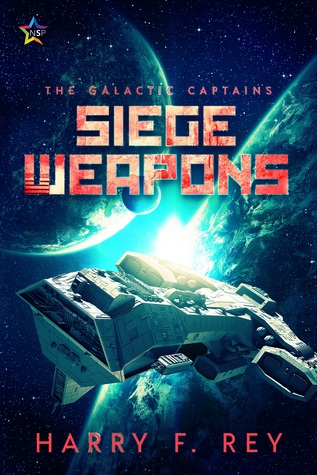 Description from Goodreads:
Captain Ales is a lonely smuggler at the galaxy's Outer Verge, and the last of his people. He's been trying to move on from a life of drugs and meaningless sex, but finding love in this forgotten corner of the galaxy is difficult.

When he's sent on a mysterious smuggling mission to a world under siege, he's enticed by promises of the domination he craves. But soon Ales finds himself entwined in a galactic power struggle that could cost him everything.
Review:
Eh. Ok in some regards, icky in others. I'm just gonna start with my big one. There is exactly one black man in this book, the main character. He's possibly one of the few in the solar system. And his goal is to find a master to submit to in a master/slave sexual relationship. I am 100% squicked out by this. Honestly, I don't even feel like the sudden BDSM angle was well integrated into the plot. I also wouldn't call it a romance, even though there is sex in it.

I found the science fiction aspect a lot more palatable. Unfortunately, it's not particularly well developed, as it's not really the main thrust of the book. It's more just the setting for the rest of it.

The writing and editing are perfectly passable though. Some of the dreams didn't read as smoothly as the rest of the text. But I have no other complaints about the writing. All in all, I'd just call this ok.