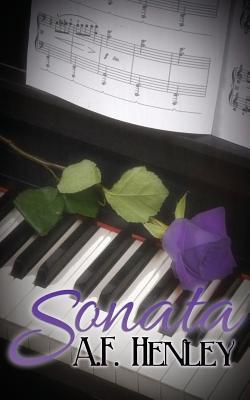 Author, A.F. Henley was generous enough to send two of their books to be included in my Little Free Library. Sonata is one of them. This afternoon, I chose to borrow it back and read it.
Description from Goodreads:
At thirty-six Ian feels done with the world. When a night at a bar goes as poorly as expected, he wants only to return home to be miserable in peace. Instead, he encounters Jordan. Hot, young and interested, Jordan is everything Ian's ever wanted and nothing he believes himself capable of actually obtaining. 
Jordan has enough going on in his life trying to scrape together a living for himself and his autistic son. When he meets Ian, all he wants is a brief, erotic moment and nothing else. 
But fate throws them together again and again, and Ian finds himself determined to do whatever it takes to give their story a happy ending – no matter what secrets Jordan's past has waiting for him.
Review:
This is another hard one to review. I really adored some aspects of it. I mean Ian's openness and heartfelt desire to care for someone was super touching. I really liked him. I felt Jordan's desperation, even before we knew why (though I guessed his circumstances fairly early on). They were a compelling pairing.
However, even as I appreciated Henley's inclusion of an autistic child, I also felt like he was simply a plot device. He had no real discernible personality and conveniently disappeared when the plot needed him to. Plus, the happy ending wrapped up so easily that I felt Cole had simply been shunted off into the wings.
Speaking of endings, I felt like Henley just fixed everything off screen and I found it difficult to make the transition along with the story. Plus, I felt like there were a lot of things I wanted the men to talk about (to see the men talk about) that didn't happen.
For the most part however, I thought this was a sweet little romance.