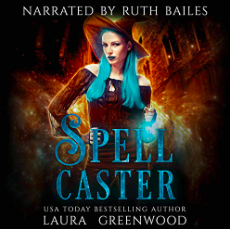 I received an Audible code for a copy fo Laura Greenwood's Spell Caster.
Description from Goodreads:
Can magic and science come together to catch a murderer?  
Cassie's world is turned upside down when she's given an unusual blood sample to test. And when a mysterious man shows up at her lab telling her he has the answers she's looking for, she's pulled into a world of murder, investigations, and intrigue.  
Finally able to explore the connection between her powers as a witch and her expertise as a scientist to uncover why paranormals keep turning up dead. 
–  
Spell Caster is a reverse harem paranormal mystery set in the Paranormal Council Universe.
Review:
Sigh. This wasn't bad. It was just sort of a mess. For one, it's called a reverse harem, which infers (though admittedly doesn't say) it's erotic. Most reverse harem books you encounter are, so tying itself into a known erotic trope suggests it is too. It isn't. The steamiest this gets is that Cassie kisses each of her mates once (and they're not even descriptive passionate kisses) and then each man kisses her forehead or the top of her head once. There is no passion or eroticism in this at all. If she was interested, I'd let me 9yo read it.
Similarly there isn't any passion (erotic or otherwise) about the mating. Cassie has a calm conversation with each man and then moves on. It literally could have been a work meeting over coffee. (Once even is over coffee.)
But most importantly, how this four-way mating might work isn't addressed at all. It's clarified that each man is her mate and they aren't each others mates (no menage). But I have a hard time believing that will work with no jealousy. Why would these guys share a mate?
The book would have simply been IMMENSELY improved if the author had left the mate element out and let the book be about Cassie getting a new job and earning her spot on the Paranormal Crimes Investigation team. And I honestly think the author would only have had to cut about 2% of the text to make this true. I cannot emphasize enough how underdeveloped the mate aspect is. It's so underdeveloped that it's just a distraction and detraction in the plot. I think I'd have really liked the book if it was just a paranormal mystery. As it is, I was just disappointed.
Edit: On a side note, the title is Spell Caster, but Cassie doesn't cast a single spell in the book. She uses magic, but never an actual spell. Just saying.