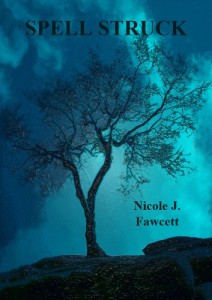 In December of 2012, I downloaded Nicole J. Fawcett's Spell Struck from the Amazon free list. I read it as part of me TBR reading challenge (reading books I've own 2+ years).
Description from Goodreads:
Rhiannon Grey is a detective in a hectic police headquarters. She's also a witch, in a society that's learned not to think too highly of the supernatural, and her boss is a two thousand-year-old vampire. Rian has discovered the hard way that trouble is always just around the corner.
This time, trouble is called Griffin King, a fifteen year old runaway whose strangled corpse is found floating in the river. He's not the first street-kid to vanish recently, or to turn up later, very dead. When Rian starts to suspect he was a witch, too, and that his magic led to his death, her investigation turns into a personal crusade. 
No one seems terribly concerned about the fate of a few disappeared urchins, though. And when a series of brutal murders starts panicked speculation about a nest of vampires, Rian's boss has other things on his mind.
But Rian won't be distracted. Not by bureaucracy, not by murder, and certainly not by her dysfunctional private life. Her family think she's going to end up dead; her friends think she's going to end up dead lonely; and her lovers are dead frustrated . . .
Reading:
This is a perfectly passable, but basically uninspiring PNR. Rian wavered between being strong and smart and being the child-like joker of the detective team (certainly never quite as slick, together and leader-like as any of the men who were ostensibly her equals).
She went back and forward between kicking butt in a fight and tripping over her own feet, especially when scantily dressed such that the UST was artificially amped up. (Because she forgot to put a robe over her panties and crop top pyjamas while self-consciously sharing a hotel suite with a man she's attracted to. Sure, that kind of thing happens all the time, right?)
She also oddly needed a two thousand-year-old vampire to teach her how to use magic, despite coming from and being raised in a long-standing, powerful family of witches with Fae connections, had a tendency to run off and do TSL stuff when she was unhappy, suffered a minor mental break-down out of nowhere and instigated what will obviously be a love-triangle in future books. So, there were definitely parts of this book I distinctly disliked but for the most part, I enjoyed it. I was especially fond of Cato, Safi and Marco.
The writing and editing was fine. Though there was a habit of putting a space between the beginning quotation mark and the first word of a quote (like this, " bla, bla, bla"). I've seen people do that before, so maybe it's a standard somewhere but it drove me crazy. Otherwise, I have no real complaints about the writing/editing. (Oh, except that the title makes no sense when, not once in the whole book, did ANYONE sling, craft, chant, speak or even get struck by a spell. In fact, we're kind of told magic doesn't work like that. Maybe I missed something.)
I enjoyed the book enough to pick up a sequel if I saw it on sale, but not enough to buy it at full price. (That's a legitimate way to rank a book right?)