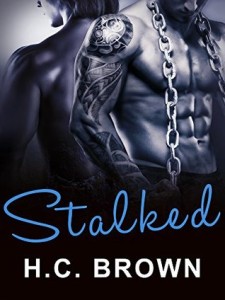 I received a copy of Stalked, by H. C. Brown, from Netgalley.
Description from Goodreads:
Who's more dangerous – a stripper, an assassin, or a serial killer?
The Stripper Ripper is stalking the streets of New York City, preying on male strippers, and the press is making mincemeat of a helpless police force.
In desperation, the police refer the serial killer's case to the Slayers, a team of enhanced, undercover super soldiers. The commander of the Slayers puts his team on the streets to watch over the Ripper's favorite targets.
One of these targets is Micah, a twink stripper and a desirable sub. Micah's baby sitter is one of the newest members of the Slayers, Sorren, as cold-blooded an assassin as they come, and the last person you'd expect to harbor feelings for his charge.
True to form, Sorren is as surprised as anyone at his new infatuation, but Micah is hiding something. Will Micah learn to trust his protector, or is he destined to be the next victim on the Stripper Ripper's list?
Review:
When I finished this book and went to Goodreads, to write this review,  I discovered that this is a second in a series. I wouldn't have picked it up if I had known that. I like to read series in order. But I don't think having read the first book would have made me like it any more. But I am always baffled why publishers don't put that information on book covers. It's freakin' important!
Anyhow, this book was a fail for me. My overall impression was of overpowering, almost unbearable cheesiness. Everything about The Slayers was too perfect. Sorren flashed cash constantly, bought Micah new clothes, pampered his cat, had an easy solution for everything, etc. As an example, at one point Micah demands $1,000 a night as a fee in order to accept a job. This is apparently the going rate for a skilled dancer. (I don't know.) The counter offer was an apartment in the five star building, food, living expenses (hair cuts, clothes, massages, sex are listed as examples), and $5,000 a show. Um….too good to be true and painfully unbelievable. But pretty par for the course of a book trying too hard to be like a fairy tale.
But my main complaint was with the characters. There was no depth at all, no history, no development. And as much as I like the occasional growly alpha a-hole, Sorren was just a dick. Here's a quote: "No! I refuse to discuss limitations, or contracts. I am a Dom and in my dungeon, we go by my rules. I will push you to the edge and you will trust me to give you pleasure." That pretty much sums the book up. That's the level of trust and communication presented as the norm. Keep in mind that these men have known each-other less than a day and this is his response to Micah's request for boundaries.
There's an earlier scene, in which they had known each-other less than an hour and Micah asks Sorren if he's into edge play, 'cause for Sorren Micah claimed to be willing to learn it. Micah had never done more than be spanked and they were no discussing kink, but hey let's throw this random one out as an invitation. No matter that less than an hour earlier he'd watched his best friend get his throat slit and been stabbed himself. Of course knife play is gonna be exactly what the reader expects him to be fantasizing about. WTF? What the actual f*ck?
Basically, I found the plot anemic, the use of "I'm a Dom" to excuse and explain almost everything in life irritating and artificially highlighted, the cheesy 'Dom-speak' like sandpaper, the villain cliche beyond words, the events predictable, Micah was TSTL, there are a number of inconsistencies/contradictions, and the whole thing (almost every aspect of it) rushed and underdeveloped. The actual writing itself was fine. The book is easy enough to read, but not much of what was written actually appealed to me personally.