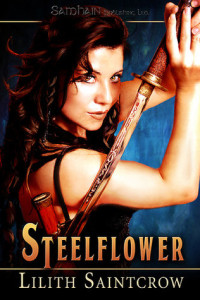 I borrowed a copy of Lilith Saintcrow's Steelflower from my local library.
Description from Goodreads:
Picking the wrong pocket can get a girl in trouble…
Thief, assassin, sellsword—Kaia Steelflower is famous. Well, mostly famous, and mostly for the wrong reasons. She's made a good life for herself, despite being kicked out of her homeland for having no magic. She's saving up for her retirement, when she can settle down, run an inn, and leave the excitement for others.
Then she picks the wrong pocket, wakes up with a hangover, and gets far more than she bargained for. Now she has a huge, furry barbarian to look after, a princeling from her homeland to fend off, and an old debt to fulfill. And for some reason, the God-Emperor's assassins want to kill her.
It's never easy being an elvish sellsword, and this time it just might be fatal…
Review:
I both really enjoyed and found myself quite frustrated with this book. I liked Kaia. I liked the Barbarian. I adored D'ri. I liked the world and the writing. BUT the book never really goes anywhere. They wander around and do this and then that and then something else, but there is no intent in it. Also, while I understood Kaia's strong reluctance, I got tired of reading it. Worst of all, the hints that all the hardships she'd suffered in her life might have actually been her own fault, based on a misunderstanding that she didn't seek clarification of over a decade is off-putting to say the least.
Despite all that, I'd read more if there was any, but Saintcrow states that she does not intent to continue the story, as e-piracy killed the series. Which means that this, an incomplete story (though not a cliffie), will always remain so and that makes it kind of a pointless read IMO.