Ok, a warning first. I'm on a family road trip. I spent 7 hours in the car today, which was great for reading (as I wasn't driving) but the trip means unpredictable access to the internet. I'm currently in Hays, Kansas and have it. So you'll get a review post. But there is no guarantee that the same will be true tomorrow or the next day. Just know that if I go dark, just know I'll show back up.
OK, on to Strong Signal, by Megan Erickson and Santino Hassell. I purchased a copy of the book.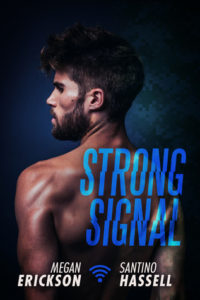 Description from Goodreads:
I was counting down the months until the end of my deployment. My days were spent working on military vehicles, and I spent my nights playing video games that would distract me until I could leave Staff Sergeant Garrett Reid behind.
That was when I met him: Kai Bannon, a fellow gamer with a famous stream channel. 
I never expected to become fixated on someone who'd initially been a rival. And I'd never expected someone who oozed charm to notice me—a guy known for his brutal honesty and scowl. I hadn't planned for our online friendship to turn into something that kept me up at night—hours of chatting evolving into filthy webcam sessions.
But it did. And now I can't stop thinking about him. In my mind, our real life meeting is perfect. We kiss, we fall into bed, and it's love at first sight.
Except, like most things in my life, it doesn't go as planned.
Review:
This was incredibly sweet, much sweeter than I anticipated actually. I expected a lot more angst from a grump-faced soldier and an anxiety-ridden gaymer, but I'm not complaining. I have a pretty low threshold for hearts and flowers and rainbows in my romance, but this was just the sort I could handle—hot, dirty and heartfelt without being schmaltzy. Seeing Garrett's marshmallow center and his legitimate attempts to control his overbearing instincts was really endearing. As was Kai's much more expressive puppy-like love.
And I have to make a confession here. Everyone has their own kink, right? Something in smexy literature that cranks their shaft just right? Well, for me it's masturbation scenes. For real, that shit is often better than the all out sex scenes for me and here we had two people falling in love over ~9 months while half a world apart. You know my toes were curled in just the right way for much of the book.  And that's before I even get into how inappropriately titillated I am by the idea of what men get up to when there simply are no women about. That whole brotherhood of arms thing added to getting off together is another hot button for me. Totally objectifying, I admit, but there it is.
The book also deals with a lot of the shite that LGBTQI+ individuals have to put up with on a regular basis. Every once in a while I felt the agenda in this, more in the language than anything else—when 'proper' terms were used instead of slangy words, for example. But it was never enough to put me off more than I was happy to see some of it addressed.
I've read books by both Erickson and Hassell before. I've enjoyed them both, will again in the future. But as a team, they are one hell of a dynamic duo.