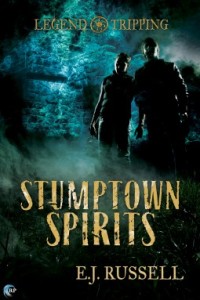 I received a copy of Stumptown Spirits, b E. J. Russell, from Netgalley.
Description from Goodreads:
What price would you pay to rescue a friend from hell?
For Logan Conner, the answer is almost anything. Guilt-ridden over trapping his college roommate in a ghost war rooted in Portland's pioneer past, Logan has spent years searching for a solution. Then his new boyfriend, folklorist Riley Morrel, inadvertently gives him the key. Determined to pay his debt—and keep Riley safe—Logan abandons Riley and returns to Portland, prepared to give up his freedom and his future to make things right.
Crushed by Logan's betrayal, Riley drops out of school and takes a job on a lackluster paranormal investigation show. When the crew arrives in Portland to film an episode about a local legend of feuding ghosts, he stumbles across Logan working at a local bar, and learns the truth about Logan's plan.
Their destinies once more intertwined, the two men attempt to reforge their relationship while dodging a narcissistic TV personality, a craven ex-ghost, and a curmudgeonly bar owner with a hidden agenda. But Logan's date with destiny is looming, and his life might not be the only one at stake. 
Review:
I have to admit that, while I didn't dislike this, it wasn't a big winner for me either. As much as I liked Riley and Logan (and I did), as interesting as I found the mystery (and it was), as amusing as I found the side characters (and they were), as often as I laughed (and I did ) I thought this was inelegantly written and at times just too over the top.
I completely understood that the characters were meant to be conflicted, wanting one thing but trying to do another, but the constant back and forwards annoyed me and it felt clunkily done. Logan's internal dialogue was not enough to pull it off for me. What's more, it all came down to an unwillingness to communicate that I found frustrating.
There was also one last twist toward the end that I thought way too coincidental and unbelievable. I don't even think it contributed to the plot. The last event it prompted to action could have still happened without it.
All-in-all, I had complaints that kept me from loving it, but I did enjoy it. There is plenty of room between a book being a favorite and not liking a book at all. Riley was especially likable.