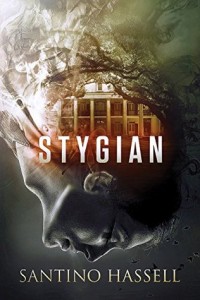 I bought a copy of Stygian, by Santino Hassell.
Description from Goodreads:
Jeremy has been isolated and adrift since the death of his brother. Most people just see him as the skinny emo kid who wears eyeliner and plays drums. No one gets him. Nobody tries. He thought the indie rock band Stygian would become his anchor, but—lost in their own problems—they're far from the family he sought.
Still, hoping to get close to Kennedy, the band's enigmatic guitarist, he follows Stygian to northern Louisiana for a summer retreat. They had planned to spend six weeks focusing on new music, but things go awry as soon as they arrive at the long-deserted Caroway mansion. Tempers flare, sexual tension boils over into frustration, and Jeremy turns away from the band to find a friend in his eerily beautiful landlord Hunter Caroway.
Kennedy suspects there's something off about the creepy mansion and its mysterious owners, but Jeremy thinks he's finally found somewhere he fits. It isn't until Kennedy forces the Caroways' secrets into the light that Jeremy realizes belonging sometimes comes with a price.
Review:
This one ticked a lot of boxes for me. I have come to love Hassell's writing style and his basic….I don't know what to call it, tone maybe. Just the way everything I've read by him, regardless of the genre, has a certain feel to it that I love. It's gritty. It's real. It's maybe even a little nihilistic. It pretends happily ever after can't exist, even if a character gets it in the end. Maybe you'd have to read his stuff for that to make sense.
In Stygian, Hassell has created a host of seemingly unlikable characters. I mean all of these guys repelled me at some point, some so much I didn't think they'd be redeemable. But Hassell pulled that off too. The whole thing is as creepy and atmospheric as you'd expect a gothic style, Southern horror novel to be, with a villain that's maybe a little more complex than first appearances suggest.
My only real complaints are that the narrative is a little conversational at times and I didn't really feel the connection between Kennedy and Jeremy. A lot of it is pre-existing, based on events prior to the time frame of the novel. I definitely felt what Hassell is doing here, but I had to just take his word for it. As much as I liked Kennedy and Jeremy (and I did), the strength of emotion seemed sudden. (Though some of this feeling was ameliorated after reading the prequels.)
Lastly, there had better be a sequel or I may have to go a little Annie Wilkes on Hassell. (Ok, not really, but please be a sequel.)
As an additional bonus, if you read the book and want more, there are two prequels available. One from Dreamspinner (Feeling You) and one posted on Binge on Books (A Night in the Life). And though not quite out at the time of this posting, I'm told there will also be a Stygian related story in the free anthology Lead Me Into Darkness.