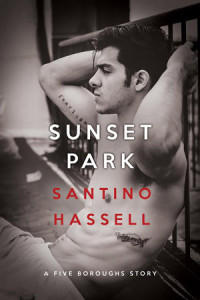 I bought a copy of Santino Hassell's Sunset Park. It's the sequel to Sutphin Boulevard, which I reviewed last year.
Description from Goodreads:
Raymond Rodriguez's days of shoving responsibility to the wayside are over. His older brother wants to live with his boyfriend so Raymond has to get his act together and find a place of his own. But when out-and-proud David Butler offers to be his roommate, Raymond agrees for reasons other than needing a place to crash.
David is Raymond's opposite in almost every way—he's Connecticut prim and proper while Raymond is a sarcastic longshoreman from Queens—but their friendship is solid. Their closeness surprises everyone as does their not-so-playful flirtation since Raymond has always kept his bicurious side a secret.
Once they're under the same roof, flirting turns physical, and soon their easy camaraderie is in danger of being lost to frustrating sexual tension and the stark cultural differences that set them apart. Now Raymond not only has to commit to his new independence—he has to commit to his feelings for David or risk losing him for good.
Review:
Oh man, another winner from Hassell. I've said it before, but I just love his voice. There is a certain realistic grittiness to it that I just swoon over. He writes real people and you can't help but relate to them.
For me, Raymond was the undisputed star of this show. I just loved the way he could be so easy going but still 100% willing to go for what he wants (in some areas of his life). It was incredibly endearing.
I liked David too and completely understood his hesitancies and struggles to risk his heart on what he perceived as a maybe. Though it's never said, it boiled down to a basic distrust of Raymond's bisexuality and this is something real and hurtful that bisexuals deal with that rarely gets discussed. Trust Hassell, who never seems to flinch away from difficult themes, to slip that one in there successfully.
The sex is hot but not so frequent as to overpower the plot. The characters are appreciably blue collar (when almost everywhere else I look I'm finding billionaires and rock stars). The writing is tight. The dialogue is sharp. The drama did seem to drag on a bit and some of the blow ups seemed a little overblown, but for the most part, I'm almost wholly without complaints.