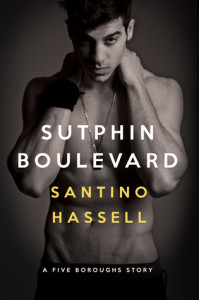 I bought an e-copy of Sutphin Boulevard, by Santino Hassell.
Description from Goodreads:
Michael Rodriguez and Nunzio Medici have been friends for two decades. From escaping their dysfunctional families in the working-class neighborhood of South Jamaica, Queens to teaching in one of the city's most queer friendly schools in Brooklyn, the two men have shared everything. Or so they thought until a sweltering night of dancing leads to an unexpected encounter that forever changes their friendship.
Now, casual touches and lingering looks are packed with sexual tension, and Michael can't forget the feel of his best friend's hands on him. Once problems rear up at work and home, Michael finds himself seeking constant escape in the effortless intimacy and mind-blowing sex he has with Nunzio. But things don't stay easy for long.
When Michael's world begins to crumble in a sea of tragedy and complications, he knows he has to make a choice: find solace in a path of self-destruction or accept the love of the man who has been by his side for twenty years.
Review:
I was really nervous to pick this book up. In my little circle of the internet there has been a ton of hype about it and I've found myself disappointed more often than not with well-touted books. In this case, however, I'm thrilled to report that it lived up to its reputation. I basically loved it.
Something about it struck me as very real, as if a lot of it could be drawn from the author's personal experiences. Of course, I have no idea if it can or has been. But that's the beauty of fiction, a good writer can make you believe it is, even when it's not.
Another reviewer said the relationships in this book were, "…so real in my experience of the gay community." This isn't something I can speak to, not being part of that community. But certainly, as basic human relationships, I found them very believable. But there were other parts of it, parts that were so disturbingly familiar to me that I found them difficult to read at times.
Example and true story: my grandmother kicked my mom out of the house at 13 and for several years, she (my mother) lived on the streets in NYC. I can only imagine what that was like and she pointedly doesn't talk about it. But my mother is an amazing example of dragging herself up from nothing to be something—GED, college, nursing school, midwifery degree, FNP license, Functional Medicine license. She is basically amazing, as far as I'm concerned. And she hates her mother with the fiery passion you might expect given the circumstance.
But at the end of Gma's life, when her husband/caretaker died and it was apparent that she was going to drink herself to death very quickly, my mother took her in. She converted a wing of her house, fed her, clothed her, monitored her vodka to keep her out of the hospital and didn't allow the woman's vitriol and accusations to drive her to violence. She swallowed her own distaste in order to do the right thing. And I saw so much of her and what it cost her emotionally to come home and take care of the woman who hadn't bothered to do the same for her as a child in Michael's situation with his father. Neither my grandmother, nor Michael's father had earned the right to be taken care of by their children. But family, even shitty family, is family and sometimes it's not about what someone objectively deserves. Michael's whole home situation rang true to me.
Similarly, I have a friend who ended up in rehab in her early twenties. I remember watching her decline, visiting her on her visitation day, facing the forced cheer and thinly varnished desperation of the place and being shocked at the youthfulness of the group as a whole. Again, Michael's experience felt recognizable.
But as much as I loved the realism of Michael's situations (and Michael), it was Nunzio who sold the book for me. The way he wanted without ever showing his desire outright. The way he was always there, waiting to be noticed, all without ever really pushing or demanding anything significant. You could see it in almost every little move her made, but it was amazingly un-intrusive. I loved him for that. My heart broke for what the time passed must have cost him, but he didn't play even a single 'woe is me' card. *Sigh* (I thought he was wonderful.)
Then there is the sex! I wouldn't call this an erotic novel, though the sex is definitely erotic. It's hot, really hot and there was plenty of it, but it's there as part of the plot not as a distraction to it or in excess of it.
There were aspects of the book I didn't like, but most of them come down to personal quibbles. For example, I'm not a fan of dirty talk during sex. Beforehand, sure, bring on the filthy suggestions. But any of the in flagrante delicto utterances always cheese me out. And my high school Spanish classes weren't enough to carry me through some of Michael's exclamations. I kept Google Translate open for the duration of the book.
All in all, however, I'm impressed. I'd read the first In the Company of Shadows, which Hassell wrote with Ais. So, I knew there was a good chance that the writing would be good, since it is in ICoS. But with partnerships, you never can be sure who's done what. Hassell's solo writing seems to be wonderfully readable too. Plus, there is notable diversity in the characters. That makes me do a little happy dance.
Side note: OMG, that cover!