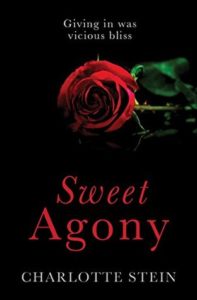 I purchased a copy of Sweet Agony, by Charlotte Stein.
Description from Goodreads:
New job, new boss, and he's cold, strict, but terribly attractive. Does Molly Parker stay or does she go? Because beneath Cyrian's chilly front, there may be a heat that'll burn her up.
Giving in was vicious bliss.
The live-in position is an opportunity for Molly to earn and escape a problematic family. There's just one drawback. Her employer is the most eccentric, aloof and closed off man she's ever encountered. His rules are bizarre and his needs even more so, and caring for his ramshackle Dickensian home is far more than she ever bargained for. Only their increasingly intense conversations stop her heading for the door. Cyrian Harcroft is a man of many mysteries and secrets, and the more she learns the greedier she is for each and every one. Especially when she discovers his greatest fear: any kind of physical contact. Now all she has to do is dig a little deeper, to unearth the passion she knows he can feel…
Review:
"Oh, that was just marvelous." This is what I exclaimed, out loud, when I hit the last page of this book. I really, truly enjoyed it. Granted, the first half more so than the second, but still an over all win. The voice was just to die for.
I call the first half the comic half and the second the erotic, and I imagine if either one wasn't the sort to thrill you they would feel they went on forever. But for me, I ended happy. The first chapter alone had me laughing so hard I bounced the hammock I was laying in, which of course just made me laugh harder. Eventually, I just put the Kindle down and let myself have a minor hysterical moment. Alternatively, the second half left me wishing for a few moments alone with my other half. Unfortunately, my 5-year-old declared, quite innocently, "You will never get rid of me," so…
Stein's humor, though a little on the juvenile side for a 34-year-old protagonist, managed to hit just the right note for me and I thought the sex was hot. There was a lot of it once it eventually hit the page. It was maybe even too thick, but it still scalded my knickers. All in all, though not a perfect book (I was especially squinked out by the use of sex as a rudimentary cure for past abuse and psychological illness), it left me wanting more and I'll be looking for further Stein novels.