I ordered a signed paperback copy of The 5th Gender, by G. L. Carriger from Borderland Books.
Description from Goodreads:
A species that has no word for murder, has a murderer aboard their spaceship. 

ALIEN 

Tristol lives in exile. But he's built a life for himself aboard a human space station. He's even begun to understand the complex nuances of human courting rituals. 

Detective Hastion is finally flirting back! 

MURDER 

Except that Tristol's beloved space station is unexpectedly contacted by the galoi – a xenophobic species with five genders, purple skin, and serious attitude. They need the help of a human detective because there's a murderer aboard their spaceship. Murder is so rare, the galoi don't even have a word for it. 

Tristol knows this because he is galoi. 

ROMANCE 

Which means that he and Detective Hastion are on the case… together.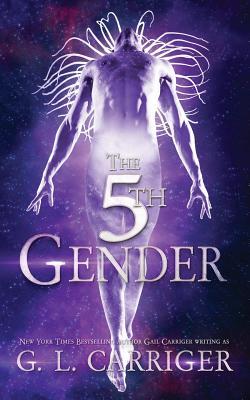 Review:
I was super excited for this book. Carriger is one of my favorite authors and I thought this sounded like a very sweet MM sci-fi romance (one of my favorite genres). And it is. The problem is that it seems to depend far too heavily on being cute and feel-good and no where near enough on world building, character development and plot (not something I ever expected to say about a Carriger book).
The love is basically instant, in that the characters are supposed to have been attracted to each other for a while. But all it took was one single conversation for them to go from distant but attracted to 'lets move in together.' So, I see no reason for this conversation not to have happened at any point in their past. The mystery is very easy to solve and, in todays (American) political climate, notably pointed. And I was disappointed to find that Carriger created a race with 5 distinct genders, but Tris was so recognizably feminized and then contrasted against Drey's manly-madness. I feel like the premise promised to challenge gender stereotypes, but instead presented them un-interrogated.
As always however, the writing is sharp and easy to read. Carriger's trademark wit and humor are in abundance and the heroes are very likable. Maybe if my hopes hadn't been so high to begin with I wouldn't have been so disappointed at the end. It's not a bad book by any means, just not as great as I had hoped.