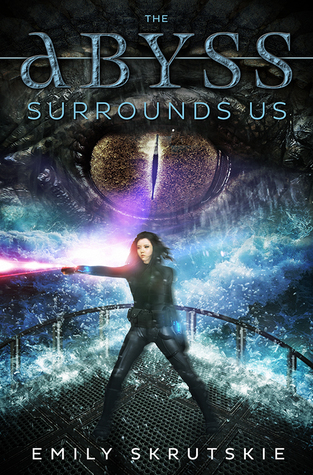 I purchased a paperback copy of The Abyss Surrounds Us, by Emily Skrutskie.
Description from Goodreads:
For Cassandra Leung, bossing around sea monsters is just the family business. She's been a Reckoner trainer-in-training ever since she could walk, raising the genetically-engineered beasts to defend ships as they cross the pirate-infested NeoPacific. But when the pirate queen Santa Elena swoops in on Cas's first solo mission and snatches her from the bloodstained decks, Cas's dream of being a full-time trainer seems dead in the water. 
There's no time to mourn. Waiting for her on the pirate ship is an unhatched Reckoner pup. Santa Elena wants to take back the seas with a monster of her own, and she needs a proper trainer to do it. She orders Cas to raise the pup, make sure he imprints on her ship, and, when the time comes, teach him to fight for the pirates. If Cas fails, her blood will be the next to paint the sea. 
Spoilerish Review:
Those in my book circle seem to love this book and I can see why. Perfectly readable writing, YA lesbian leads, a bad-ass female pirate captain, racial/identity/economic diversity, acknowlegement of power differences, dads and brothers who play domestic roles while women work, all things it's nice to encounter, and even better when gender norms are perverted, not just swapped. The characters are natural in their role and the author doesn't play it up for points. 
But the simple overall fact of the matter is that, despite liking aspects of the book, I didn't enjoy the book. I felt that Cassandra's sudden siding with her captors simply because she'd gotten to know some of them was beyond plebeian. Her sudden willingness to kill her own because she'd become attached to one person made me grit my teeth. It's far too weak a motivation. 
And the ending? Well, I feel like the villain won. Nothing in the ending felt satisfying. I didn't feel like Cassandra accomplished anything or grew. In fact, she put herself in the hands of her enemy. Nope. I was not happy with the ending.