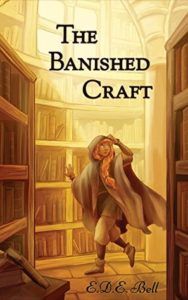 I received a copy of E.D.E Bell's The Banished Craft from Netgalley.
Description from Goodreads:
Struggling to solve the mystery of her parents' murder, Cor comes across a mystery much deeper—a secret society who predicted that someday their world would be devastated. That time is now. In a world where women are not allowed to read, live alone, or pursue knowledge Cor presses forward, discovering a new magic and the power to wield it. A world away, Atesh works in the Imperial Labs, devoting his study to the turmoil destroying his home and endangering dragonkind. Instead he discovers a long-hidden truth. Humans are real.
A quirky and modern take on dragons and wizards, The Banished Craft begins the genre-bending Shkode fantasy trilogy about a split world, exploring themes of identity, prejudice, violence, compassion, and the ways we are all connected.
Review:
OMG, I finally finished this, which was in doubt on more than one occasion. I just could not get into it and every page was a slog. I mean, I can read a book this length in a day. But I've been reading this one forever and a day…ok, three weeks, but for me, that's an eternity. I would pick it up, read a chapter (sometimes less), put it down, go off and read something else (usually an entire other book) and then come back to this one for a chapter (sometimes less). It was in this arduous manner I finally chipped away at it enough to finally finish. And do you know what? It ended about where I expected it to start with nary a conclusion in sight.
And it's not even that it's a bad book. The writing is pretty good and the characters seem interesting enough. Unfortunately, there are about four billion of them, most of whom don't seem relevant (though I suspect they will be in future books). And all these characters populate about a million unrelated plots. Though I expect they'll connect up at some point, just not in this book. I can kind of see the shape it will be taking, but that's not enough to be a satisfying rad.
It this over abundance of characters and plot lines that did me in. I was just never able to sink into it and float away with the story. Just about the time I settled into a narrative, it jumped to another, and just about the time I got comfortable there, the book was off again. This is stylistic and if it doesn't bother you then you may like the book. This drives me batty and I wanted to scream…or DNF the book.
There is a pleasant circularity to the two worlds that I appreciated and again, the writing is pretty good. But This one was definitely not for me. I had hoped to read the sequel, but I barely made it through this one.