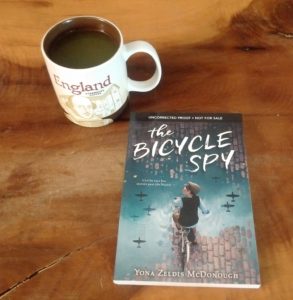 Last year I won a copy of Liberty, by Kirby Larson. When it arrived in the mail, this book, Yona McDonough's The Bicycle Spy was mysteriously included. I figured it was a surprise gift or extra bonus or promo or maybe someone somewhere's mistake. But there it was either way.
Description from Goodreads:
Marcel loves riding his bicycle, whether he's racing through the streets of his small town in France or making bread deliveries for his parents' bakery. He dreams of someday competing in the Tour de France, the greatest bicycle race. But ever since Germany's occupation of France began two years ago, in 1940, the race has been canceled. Now there are soldiers everywhere, interrupting Marcel's rides with checkpoints and questioning.
Then Marcel learns two big secrets, and he realizes there are worse things about the war than a canceled race. When he later discovers that his friend's entire family is in imminent danger, Marcel knows he can help — but it will involve taking a risky bicycle ride to pass along covert information. And when nothing ends up going according to plan, it's up to him to keep pedaling and think quickly… because his friend, her family, and his own future hang in the balance.
Review:
Now, this is written for 3rd to 7th graders, according to the info page in the front of the book. So, I'm hardly the target demographic, being almost 40 and all. But I want to give it to my 9yo and be able to discuss it with her, so I went ahead and read it too. The writing is appropriately simple and it trims some very thick themes into fairly thin ideas, such that a child can grasp it.
I do think it shies away from really engaging the subject matter. Because of this I think they'd need a little knowledge of WWII to really understand it. A lot is explained, but I still feel a minimal base knowledge would be needed or at least appreciated. But Marcel is a sweet character and his story is interesting enough, though again fairly simplistic. I think a 3rd to 7th grader would likely enjoy the book. I'm hoping mine will, especially given the state of the world at this moment.
---
What I'm drinking: Green matcha, which I've had several times in cafes/restaurants. This was the first time I tried making it at home though, and I'd call it a moderate success.