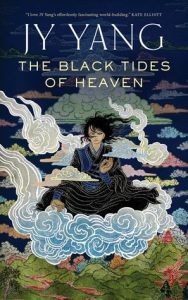 I borrowed a copy of J. Y. Yang's The Black Tides of Heaven (The Tensorate Series)
from my local library.
Description from Goodreads:
Mokoya and Akeha, the twin children of the Protector, were sold to the Grand Monastery as children. While Mokoya developed her strange prophetic gift, Akeha was always the one who could see the strings that moved adults to action. While his sister received visions of what would be, Akeha realized what could be. What's more, he saw the sickness at the heart of his mother's Protectorate.
A rebellion is growing. The Machinists discover new levers to move the world every day, while the Tensors fight to put them down and preserve the power of the state. Unwilling to continue to play a pawn in his mother's twisted schemes, Akeha leaves the Tensorate behind and falls in with the rebels. But every step Akeha takes towards the Machinists is a step away from his sister Mokoya. Can Akeha find peace without shattering the bond he shares with his twin sister?
Review:
I so wanted to love this more than I did. I liked it, ok, but I didn't love it. In fact, I checked out book one and two from the library and, though I enjoyed book one, I still returned book two (The Red Threads of Fortune
) unread. I liked the non-western fantasy setting. I liked the genderless children (even if the singular use of they clashed with the plural they on occasion, since there were two main characters). The writing is lyrical and I liked that too. But when it comes right down to it, I'm not a fan of that sparse writing style common in Chinese writing. This book covers 30+ years in a novella. As a result, I never felt I really got to know the characters or was invested in the building rebellion. I'm claiming no lack of quality. I can sense that it's well-written. This just isn't a style I personally like very much.