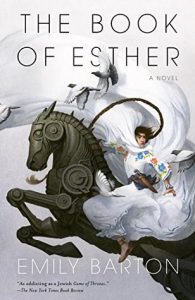 I received a copy of Emily Barton's The Book of Esther from Blogging for Books.
Description from Goodreads:
Eastern Europe, August 1942. The Khazar kaganate, an isolated nation of Turkic warrior Jews, lies between the Pontus Euxinus (the Black Sea) and the Khazar Sea (the Caspian). It also happens to lie between a belligerent nation to the west that the Khazars call Germania—and a city the rest of the world calls Stalingrad.
After years of Jewish refugees streaming across the border from Europa, fleeing the war, Germania launches its siege of Khazaria. Only Esther, the daughter of the nation's chief policy adviser, sees the ominous implications of Germania's disregard for Jewish lives. Only she realizes that this isn't just another war but an existential threat. After witnessing the enemy warplanes' first foray into sovereign Khazar territory, Esther knows she must fight for her country. But as the elder daughter in a traditional home, her urgent question is how.
Before daybreak one fateful morning, she embarks on a perilous journey across the open steppe. She seeks a fabled village of Kabbalists who may hold the key to her destiny: their rumored ability to change her into a man so that she may convince her entire nation to join in the fight for its very existence against an enemy like none Khazaria has ever faced before.
Review:
I had a strange experience with this book. When I was reading it I didn't want to put it down. Once I'd put it down, I didn't want to pick it up again. So, the whole thing was read by gorging on it and then wandering away to read something else, before gorging myself some more.
It isn't that the book is bad. It's not. But it's heavy and there are a lot of Hebrew words that require repeatedly flipping to the glossary, which got annoying. The story is a good one though. It just only managed to hold my attention while I was actually holding it, if that makes sense.
Esther was a wonderful character and I enjoyed the way she learned and grew as the book progressed. There are a ton of interesting side characters too. I personally loved Gimmel, Chuluun and Shimon (it was great to see an arranged marriage that was obviously going to work well). But do prepared for a lot of named characters.
There is also the history to contend with. This is an alternative version of WWII, from a Jewish perspective. Really interesting. But it is steeped in Jewish history and ceremony and while I enjoyed it, I think those with a stronger understanding of it all will get more out of it than I did.
All in all, I found The Book of Esther to be something I'm glad to have read and experienced.