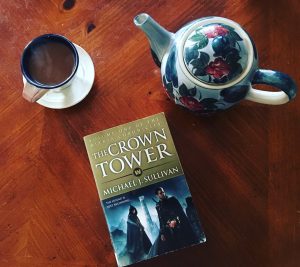 I borrowed Michael J. Sullivan's The Crown Tower from my local library.
Description:
TWO MEN WHO HATE EACH OTHER. ONE IMPOSSIBLE MISSION. A LEGEND IN THE MAKING.
A warrior with nothing to fight for is paired with a thieving assassin with nothing to lose. Together they must steal a treasure that no one can reach. The Crown Tower is the impregnable remains of the grandest fortress ever built and home to the realm's most valuable possessions. But it isn't gold or jewels the old wizard is after, and this prize can only be obtained by the combined talents of two remarkable men. Now if Arcadius can just keep Hadrian and Royce from killing each other, they just might succeed.
Review:
Well, to my complete surprise I really enjoyed this. I thought it well written and funny, especially toward the end. I did find it hard to read the sections about Gwen while she was still under another's thumb. But all in all I can't wait to read the next one.
On a side note, I was annoyed at having to decide on reading the series in chronological or publication order. Once I decide to read something, I just want to get on with it, not make extra decisions. Luckily, my decision was made for me when the library had the first ones in and not the latter ones.
On to book two, The Rose and the Thorn.