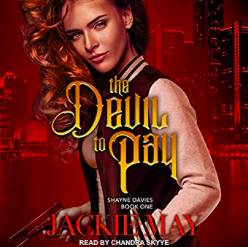 I borrowed an audio copy of Jackie May's The Devil to Pay through Hoopla.
Description from Goodreads:
As a fox shifter, Shayne Davies gets no respect in an underworld run by the fearsome and powerful—werewolves and vampires, sorcerers, demons, and mythical faerie creatures. Even at home, Shayne is still treated like the brat of the pack. Her mom constantly nags; her intended (but unwanted) mate ensures plenty of awkward silences, and Shayne is even expected to act submissive to the pack's future alpha…a six year old.
Yeah. Time for Plan B.
All Shayne wants is to prove that she's got what it takes to run with the big dogs, not just to feel like she matters, but, more importantly, to give a big middle finger to anybody who ever doubted her. Which is why she is constantly hounding Nick Gorgeous to make her an agent at the "Double D", the Detroit Division of the FUA. That's an easy "No" for Gorgeous, who keeps a strict "No Shayne Davies" policy. Well, never say never. When mysterious underworld criminals steal a load of bomb materials, the FUA picks up a messy case nobody wants to touch. It's bad enough that a demon horde is involved, but now the annoying FBI has sent out an agent to babysit the investigation. To make matters worse, notorious master vampire Henry Stadther has control of what may be the only key to breaking the case: a human detective with a beautiful man face, but a broken past.
The whole thing's a hopeless disaster.
So guess what, Shayne? You're hired!
Review:
This book tricked me. When it first started I groaned and wondered if I'd manage to finish it. I didn't have high hopes. I was annoyed that the main character broke the fourth wall to speak directly to the reader. I disliked that it seemed so focused on sex (though I appreciated that she was allowed to be sexual). I thought Shayne seemed too silly to relate to and I disliked that she was basically lying to everyone about actually working for the agency. It felt very child-like. As did the fact that the agency captain allowed her to pull the tricks she did. It was like watching an adult pander to a child. I honestly almost just gave up.
But as I continued, I found I like Shayne a lot. Her ditzy blond routine was just that, an act. She was a lot more capable than her unreliable narration led me to believe. I appreciated that while there were hints at romance somewhere in the series, this book is UF, not PNR. And even having finished this book, I'm not sure which way the author will take it. The writing is snappy and there's quite a lot of wit, though you sense the characters work at it. This could easily have felt like the author trying too hard, but I took it more as the characters trying to one-up each other.
All in all, despite the rough start, I'd be more than happy to read more of May's writing. And as Chandra Skyye did fine with the narration, I'd listen to her again too.