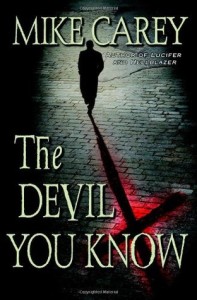 I borrowed The Devil You Know, by Mike Carey from the local library.
Description from Goodreads:
Felix Castor is a freelance exorcist, and London is his stamping ground. It may seem like a good ghost buster can charge what he likes and enjoy a hell of a lifestyle–but there's a risk: Sooner or later he's going to take on a spirit that's too strong for him. While trying to back out of this ill-conceived career, Castor accepts a seemingly simple ghost-hunting case at a museum in the shadowy heart of London – just to pay the bills, you understand. But what should have been a perfectly straightforward exorcism is rapidly turning into the Who Can Kill Castor First Show, with demons and ghosts all keen to claim the big prize. That's OK: Castor knows how to deal with the dead. It's the living who piss him off…
Review:
Surprisingly good. I expected it to be like William Peter Blatty's The Exorcist, but it was much closer to Jim Butcher's Dresden Files. I enjoyed Felix's voice and narrative, which is part of my surprise. I'm not usually a fan of first person POVs. I liked the side characters, even if they're only shallowly sketched out. I liked how the mystery unfurled and the world created here. I thoroughly enjoyed the book, a little less so at the end than the beginning and middle, but still and overall win.
My only real complaint is one I can't pin on the book alone. It wouldn't be fair to blame it for being one more of something that's become so painfully prevalent in modern books. But since I've become aware of it I can't seem to stop noticing it everywhere. This is yet one more book using the rape and victimization of women as the backbone of its plot. I can't really blame it for being part of a culture that apparently thinks that's the most motivating plot device in existence, but I'm kind of starting to feel like it's the only plot device in existence.