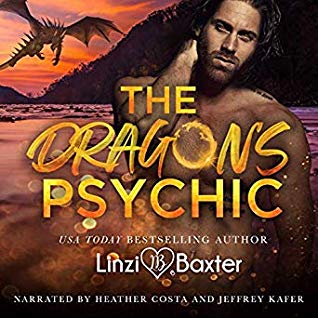 I received a free audible code for a copy of Linzi Baxter's The Dragon's Psychic.
Description from Goodreads:
She was supposed to be just a job. A paycheck. Now she's his destiny.
Talia hadn't planned on dying today. Accidentally defying the supernatural council wasn't exactly her plan either. But when she did her duty and touched a bloody knife to determine guilt or innocence, her vision seemed… off. So was Councilman Gideon's rush to declare a shivering child guilty of murder. Now Talia's trying to lose herself in the West Virginia mountains with the child in tow, and the mercenary on their tail has an uncanny ability to find them, no matter how far they run. 
Kirin's dragon-shifter senses make him the most sought-after mercenary in these parts. But something about this job smells wrong. And when he finally lays his hands on the fugitive, he gets the surprise of his three-hundred-year life. The fragile, determined woman in his arms is his mate, who he'd given up all hope of finding. 
His mercenary target has become his chosen partner, and instead of breathing down her neck, he's bound to protect her at all costs. But if Kirin and Talia can't figure out who wants this child dead—and why—they could all wind up sharing the same grave. 
Review:
This was what it was. I didn't find anything especially impressive about it, but I also didn't think it a bad version of a basic dragon shifter-find-his-mate story. I liked the characters and thought the inclusion of a child interesting. However, I also thought the child got over losing her parents too easily and the conclusion was too swift (rushed). The narrators did a fine job and I'd be willing to both read another Baxter book and listen to another of Costa and Kafer's readings.