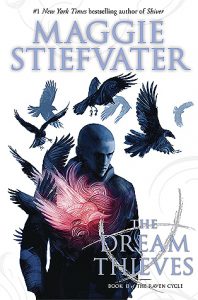 I borrowed a copy of Maggie Stiefvater's The Dream Thieves
from my local library. I reviewed the first,The Raven Boys
, here.
Description from Goodreads:
Now that the ley lines around Cabeswater have been woken, nothing for Ronan, Gansey, Blue, and Adam will be the same. Ronan, for one, is falling more and more deeply into his dreams, and his dreams are intruding more and more into waking life. Meanwhile, some very sinister people are looking for some of the same pieces of the Cabeswater puzzle that Gansey is after…
Review:
I enjoyed book one of this series. I liked the beginning of this book and really liked the end, but the middle seemed to drag. I just got so tired of everyone being so miserable and no one saying the things that so desperately needed to be said. Further, while Stiefvater's writing is beautiful there were times I wanted to shake the book and scream, "Stop being so bloody poetic and just say what you mean." The prose got in the way of the story sometimes. Lastly, it was a little to convenient that the villain offed himself in the end.
However, the plot still kept me interested enough to want the next book and the witty zingers continued to fly. There really is quite a lot of subtle humor in the story and I loved that. All in all, maybe not as good as the first book, but still really good.