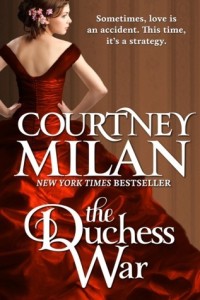 I picked up a copy of The Duchess War, by Courtney Milan, from the Amazon free list. At the time of posting, it was still free.
Description from Goodreads:
Miss Minerva Lane is a quiet, bespectacled wallflower, and she wants to keep it that way. After all, the last time she was the center of attention, it ended badly–so badly that she changed her name to escape her scandalous past. Wallflowers may not be the prettiest of blooms, but at least they don't get trampled. So when a handsome duke comes to town, the last thing she wants is his attention.
But that is precisely what she gets.
Because Robert Blaisdell, the Duke of Clermont, is not fooled. When Minnie figures out what he's up to, he realizes there is more to than her spectacles and her quiet ways. And he's determined to lay her every secret bare before she can discover his. But this time, one shy miss may prove to be more than his match…
Review:
I really really enjoyed the first half of the book, but I knew I was in for trouble when the H & h got together at roughly the 50% mark. I thought, well, what nonsense is the author going to toss out there to fill the rest of the pages? And that's pretty much what it felt like, a bunch of needless drama to fill pages. Plus, it got too saccharine sweet for my tastes, what with EVERYONE needing their happy ending.
I did appreciate the non-alpha, damaged hero, the smart, feisty heroine and the lesbian aunts. I thought the writing was pretty good. And considering I generally avoid historical romances like the plague I'm shocked to have liked this as much as I did, but again, the beginning far more than the end.