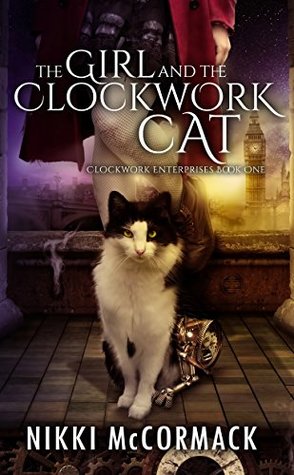 I picked up a copy of Nikki McCormack's The Girl and the Clockwork Cat when it was a freebie on Amazon.
Description from Goodreads:
Feisty teenage thief Maeko and her maybe-more-than-friend Chaff have scraped out an existence in Victorian London's gritty streets, but after a near-disastrous heist leads her to a mysterious clockwork cat and two dead bodies, she's thrust into a murder mystery that may cost her everything she holds dear. 
Her only allies are Chaff, the cat, and Ash, the son of the only murder suspect, who offers her enough money to finally get off the streets if she'll help him find the real killer. 
What starts as a simple search ultimately reveals a conspiracy stretching across the entire city. And as Maeko and Chaff discover feelings for each other neither was prepared to admit, she's forced to choose whether she'll stay with him or finally escape the life of a street rat. But with danger closing in around them, the only way any of them will get out of this alive is if all of them work together. 
Review:
Not bad, though I thought it a tad over-long and (as always) I was annoyed to find a love triangle. Beyond that, I liked Maeko as a character and appreciated the somewhat dystopic steampunk London. I would have appreciated a bit more world-building though. My main complaint however, is that the whole premise of the book is anchored in a decision Maeko is supposed to have made at six, based on an overheard conversation. Even in a dystopian world, I can't believe a six-year-old would do what she's supposed to have done (and never gone back on the decision). This really undermined the believability of the story for me. It also made the predictable "Oops, my misunderstanding" exceedingly annoying. All in all, I didn't not like it. I just had niggles with it.
As a side note, I'm additionally annoyed to find a girl in fishnets and a frilly skirt on the cover of a story about a girl who spends the whole book dressing as a boy and ACTIVELY tring to hide that she's a girl.