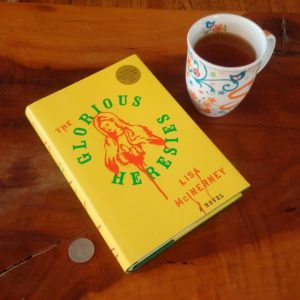 I received a copy of The Glorious Heresies, by Lisa McInerney from Blogging for Books.
Description from Goodreads:
One messy murder affects the lives of five misfits who exist on the fringes of Ireland's post-crash society. Ryan is a fifteen-year-old drug dealer desperate not to turn out like his alcoholic father Tony, whose obsession with his unhinged next-door neighbour threatens to ruin him and his family. Georgie is a prostitute whose willingness to feign a religious conversion has dangerous repercussions, while Maureen, the accidental murderer, has returned to Cork after forty years in exile to discover that Jimmy, the son she was forced to give up years before, has grown into the most fearsome gangster in the city. In seeking atonement for the murder and a multitude of other perceived sins, Maureen threatens to destroy everything her son has worked so hard for, while her actions risk bringing the intertwined lives of the Irish underworld into the spotlight . . .
Biting, moving and darkly funny, The Glorious Heresies explores salvation, shame and the legacy of Ireland's twentieth-century attitudes to sex and family.
Review:
Wow, that was a head trip and one hard read. I could generally only read a couple chapters at a time before needing breathing space. In fact, I read several other books in the time it took me to finish this, and I'm usually a literary monogamist; preferring to read one book at a time.
But despite being gritty and hard to face at times, it's a stellar book. It kind of has a similar feel to J.K. Rowling's The Casual Vacancy, except I think it pulls off spotlighting the humanity of the destitute and desperate better than Rowling did.
The characters are fleshed out and human, most of them screw-ups of one sort or another, all constantly cheating one another and themselves in the process, knowingly or not. The plot is twisty enough to keep you interested, but not so much as to feel contrived. And the writing is magnificent! Really, if you are a literary fiction reader, who likes their fiction a little on the dark side pick this up.
---
What I'm drinking: Loyd Rich India Orange Pekoe Black Tea