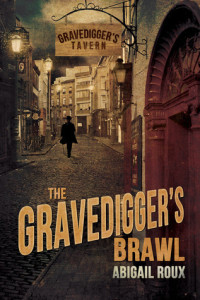 I borrowed The Gravediggers Brawl (by Abigail Roux) from my local library.
Description from Goodreads:
Dr. Wyatt Case is never happier than when he's walking the halls of his history museum. Playing wingman for his best friend at Gravedigger's Tavern throws him way out of his comfort zone, but not as much as the eccentric man behind the bar, Ash Lucroix.
Ash is everything Wyatt doesn't understand: exuberant, quirky, and elbow deep in a Gaslight lifestyle that weaves history into everyday life. He coordinates his suspenders with his tongue rings. Within hours, Wyatt and Ash are hooked.
But strange things are afoot at Gravedigger's, and after a knock to the head, Ash starts seeing things that can't be explained by old appliances or faulty wiring. Soon everyone at Gravedigger's is wondering if they're seeing ghosts, or just going crazy. The answer to that question could end more than just Wyatt and Ash's fragile relationship—it might also end their lives.
Review:
I have an honest confession. I only read the first paragraph of this book's description before I started reading it. Thus, I fully expected it to be historical and was quite surprised when it wasn't. So, this book wasn't anything like I was expecting (my own fault) but it was still cute.
For those getting tired of the asshole alpha male, this will be a treat. Wyatt and Ash are both a bit beta, not to mention geeky in their own ways. Again, they and their relationship were cute. I enjoyed it, I did. But it's not topping my favourites list.
For one, Wyatt was supposed to be 38, but acted much younger. We're not told Ash's age, but I got the impression he was supposed to be younger than Wyatt. But as Wyatt seemed younger than his stated age, I could be wrong about that. Either way, neither man wholly worked for me, as much as I basically liked them.
I couldn't really suspend my disbelief far enough to believe that Ash could disregard such an active haunting. It was a bit TSTL-like behaviour. Similarly, after ~200 pages of set-up, the solution came about with no effort from the characters and felt rushed and anticlimactic.
All-in-all, I enjoyed it as a fluff read but not much more.