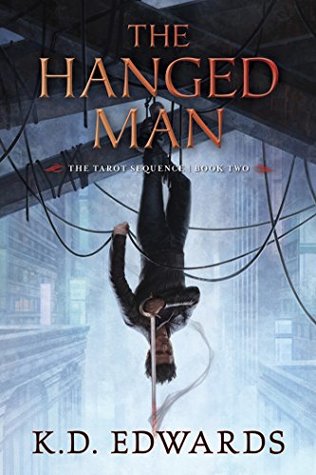 I borrowed a copy of K.D. Edward's The Hanged Man from my local library. This is book two in The Tarot Sequence series. I reviewed book one (The Last Sun) about this time last year and also listed it as one of my top six reads of 2019.
Description from Goodreads:
The last member of a murdered House tries to protect his ward from forced marriage to a monster while uncovering clues to his own past.

The Tarot Sequence imagines a modern-day Atlantis off the coast of Massachusetts, governed by powerful Courts based on the traditional Tarot deck.

Rune Saint John, last child of the fallen Sun Throne, is backed into a fight of high court magic and political appetites in a desperate bid to protect his ward, Max, from a forced marital alliance with the Hanged Man.

Rune's resistance will take him to the island's dankest corners, including a red light district made of moored ghost ships; a surreal skyscraper farm; and the floor of the ruling Convocation, where a gathering of Arcana will change Rune's life forever.
Review:
Book one of this series was one of my favorite reads of 2019 and, unless something changes, I imagine The Hanged Man will make the list for 2020. It's certainly the best book I've read so far this year. I love the many different types of love legitimized in it—romantic, paternal, fraternal, maternal, adoptive, platonic. Care is shown in so many different ways, without ever being sappy or didactic. Everyone deserves a Brand, Addam or Corinne in their life. Or we should all strive to live such that we deserve them.
I especially love Brand and Rune's relationship (and Addam's acceptance of it). It's full of insults and sarcasm. But, where too many authors overdo this, letting it fall into overuse and become a redundant schtick, I don't feel like Edwards ever does.
I think the book could have done with another round of copy edits. But all in all, I cannot wait for the next book. (I really hope there will be a next book.)
On a funny side note, I cannot tell you how many times I picked the book up upside down and then had to rotate it. That cover apparently did a number on my brain. LOL