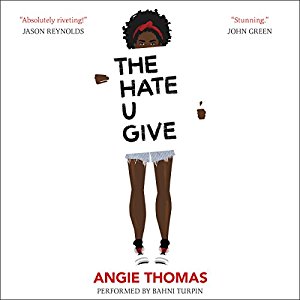 I won a copy of Angie Thomas' The Hate U Give through Audiobook Access.
Description from Goodreads:
Sixteen-year-old Starr Carter moves between two worlds: the poor neighborhood where she lives and the fancy suburban prep school she attends. The uneasy balance between these worlds is shattered when Starr witnesses the fatal shooting of her childhood best friend Khalil at the hands of a police officer. Khalil was unarmed.
Soon afterward, his death is a national headline. Some are calling him a thug, maybe even a drug dealer and a gangbanger. Protesters are taking to the streets in Khalil's name. Some cops and the local drug lord try to intimidate Starr and her family. What everyone wants to know is: what really went down that night? And the only person alive who can answer that is Starr.
But what Starr does or does not say could upend her community. It could also endanger her life.
Review:
OMG, so good. This book destroyed me, but I loved it. Outside of just being a great book, it was also meaningful for me personally. I had several startling experiences while reading it. The first being that I live in Saint Louis, MO, home of Michael Brown and Lamar Smith and the protests around their deaths and the acquittals of the officers who killed them. The events of this book could easily have happened here.
I wanted to read this book from the moment I saw it but put it off (even after I won an audio version of it) because I didn't know if I could handle it while my city and on occasion, I am currently protesting yet another failure of the justice system. I don't make it to as many actions as I'd like, but the book still seemed like it could be too close, too real.
Even once I started it, I listened to the first chapter and it took me a full week to come back and face chapter two, where I knew Khalil would die. Then, once I did, I listened in the car. Not three minutes after I managed to avoid bawling my eyes out at the scene where a traffic stop about a tail light (if it was even out) turned deadly. I was sitting at a stoplight and a police officer pulled up beside me and motioned for me to roll my window down. I did. He asked, "Did you know only your top brake light isn't working?" "No," I said, "I'll have that looked at. Thanks." He nodded and drove away. The timing shook me, life mimicking art but with one GIANT difference that was impossible to miss. This book is fiction, but there are so many Khalils and I—a white women in a Subaru—didn't even merit an officer getting out of his car! He was terse but otherwise polite.
But those things are about me and my circumstances with the book, not the book. The book is amazing, ya'll. It takes a community that is too often dehumanized and reduced to "thug" or "gang banger" and makes them real people.
This book is the direct opposite of another I read recently in which the author kept having generic "gang bangers" threaten the heroine. The gang bangers did this. The gang bangers did that. There was nothing human about them, "gang banger" could have been substituted with "the monsters" or "the evil entities." This, I think, is too often the case. But even people in gangs or that sell drugs are people with families, histories, hopes, and desires. They are real people and this book makes you see this in a way I think too many people sadly need to be reminded of. I honestly think this should be required high school reading!
It's also just marvelously written and has a surprising amount of humor for such a serious topic. It is one of the best books I've read this year and certainly the best audio I've listened to. Bahni Turpin did an amazing job with the narration. Everyone go read/listen to this and Hollywood better not mess up the movie!
On a side note: Angie Thomas is gonna be speaking in my town next month!