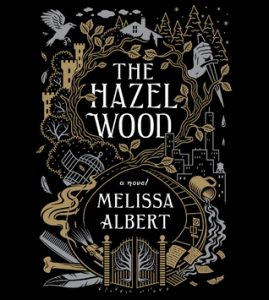 I borrowed an audio copy of Melissa Albert's The Hazel Wood through Overdrive.
Description from Goodreads:
Seventeen-year-old Alice and her mother have spent most of Alice's life on the road, always a step ahead of the uncanny bad luck biting at their heels. But when Alice's grandmother, the reclusive author of a cult-classic book of pitch-dark fairy tales, dies alone on her estate, the Hazel Wood, Alice learns how bad her luck can really get: her mother is stolen away―by a figure who claims to come from the Hinterland, the cruel supernatural world where her grandmother's stories are set. Alice's only lead is the message her mother left behind: "Stay away from the Hazel Wood."
Alice has long steered clear of her grandmother's cultish fans. But now she has no choice but to ally with classmate Ellery Finch, a Hinterland superfan who may have his own reasons for wanting to help her. To retrieve her mother, Alice must venture first to the Hazel Wood, then into the world where her grandmother's tales began―and where she might find out how her own story went so wrong.
Review:
I actually checked this out from the library thinking it was something else. Once I realized my mistake I was wary to start it; I've just been so jaded with YA books lately. But I'm happy to report this isn't an angst-ridden, soppy mess. There's no real romance and Alice moves through the story of her own volition. I did think it lagged a bit at times and she conveniently hooked up with the one person who knew everything she needed to learn and could/would fund her. But all in all I enjoyed it. There's some appreciable diversity in the cast a happily ever after grounded in realistic struggles. I don't regret listening to the story and I thought Rebecca Soler did a fine job with the narration.