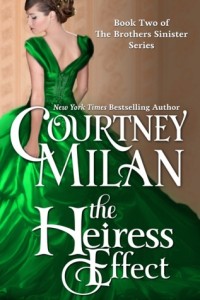 I borrowed The Heiress Effect, by Courtney Milan, from my local library. I reviewed book one of The Brothers Sinister series here.
Description from Goodreads:
Miss Jane Fairfield can't do anything right. When she's in company, she always says the wrong thing—and rather too much of it. No matter how costly they are, her gowns fall on the unfortunate side of fashion. Even her immense dowry can't save her from being an object of derision.
And that's precisely what she wants. She'll do anything, even risk humiliation, if it means she can stay unmarried and keep her sister safe.
Mr. Oliver Marshall has to do everything right. He's the bastard son of a duke, raised in humble circumstances—and he intends to give voice and power to the common people. If he makes one false step, he'll never get the chance to accomplish anything. He doesn't need to come to the rescue of the wrong woman. He certainly doesn't need to fall in love with her. But there's something about the lovely, courageous Jane that he can't resist…even though it could mean the ruin of them both.
Review:
Everyone seems to have loved this book. I just…didn't. Objectively I can say it was well written. The characters were pleasantly flawed. A number of different threads wove together, there at the end. The book is well written, but I just didn't particularly like it. I thought Jane went from strong and confident to lost and confused and back again too abruptly without enough reason for her changes. I thought the happy ending was too sappy. I didn't love the characters. I liked them well enough, but didn't love them enough to care about them. For me, this book really was just ok.