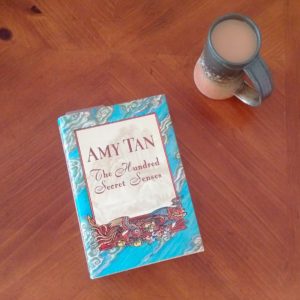 I'm still trying to pare down my physical book shelf. So, I'm getting to a lot of older, traditionally published books that I've picked up here and there then let languish. This week it was The Hundred Secret Senses, by Amy Tan.
Description from Goodreads:
Set in San Francisco and in a remote village of Southwestern China, Amy Tan's The Hundred Secret Senses is a tale of American assumptions shaken by Chinese ghosts and broadened with hope. In 1962, five-year-old Olivia meets the half-sister she never knew existed, eighteen-year-old Kwan from China, who sees ghosts with her "yin eyes." Decades later, Olivia describes her complicated relationship with her sister and her failing marriage, as Kwan reveals her story, sweeping the reader into the splendor and violence of mid-nineteenth century China. With her characteristic wisdom, grace, and humor, Tan conjures up a story of the inheritance of love, its secrets and senses, its illusions and truths.
Review:
It's Amy Tan, so you can expect an emotionally over-involved, unreliable, female narrator/main character, complicated family dynamics, a distant mother and a satisfying but not perfect ending. You can also expect excellent, emotive, descriptive writing. This one holds few surprises.
I did however enjoy it for the most part. I struggled a bit with Simon's character. He was just as his ex described him, too quick to go with the flow. And as a result, I felt a lot of Olivia's complaints and fears were legitimate and his unwillingness to stand up for them, or even apparently understand that he should, felt contrived to me. What's worse, I didn't feel he deserved Olivia's compromises in the end.
Similarly, I disliked how much of the turmoil was laid at the feet of Olivia's own self-doubt. This felt very much like blaming her for her own victimhood. Did she deserve some? Sure, but I felt too much was left to her by dint of Simon's obliviousness.
Kwan, of course, stood out for me. I adored her. Was she overly cheerful and too forgiving? Yes, but I also saw her reasoning in the end.
All in all, exactly what I would expect from an Amy Tan book. I'm glad to have read it, but now need to clean my palate with something silly and fluffy.
---
What I'm drinking: Strong black tea with milk. My English relatives are visiting. I think I'm up to four or five cups a day now.