I bought book one and two, Clean Sweep
and Sweep In Peace
.  Then I won the third, One Fell Sweep
, through Goodreads.
---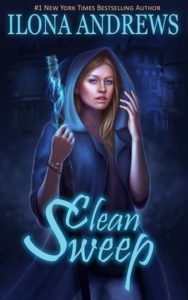 Description:
On the outside, Dina Demille is the epitome of normal. She runs a quaint Victorian Bed and Breakfast in a small Texas town, owns a Shih Tzu named Beast, and is a perfect neighbor, whose biggest problem should be what to serve her guests for breakfast. But Dina is…different: Her broom is a deadly weapon; her Inn is magic and thinks for itself. Meant to be a lodging for otherworldly visitors, the only permanent guest is a retired Galactic aristocrat who can't leave the grounds because she's responsible for the deaths of millions and someone might shoot her on sight. Under the circumstances, "normal" is a bit of a stretch for Dina.
And now, something with wicked claws and deepwater teeth has begun to hunt at night….Feeling responsible for her neighbors, Dina decides to get involved. Before long, she has to juggle dealing with the annoyingly attractive, ex-military, new neighbor, Sean Evans—an alpha-strain werewolf—and the equally arresting cosmic vampire soldier, Arland, while trying to keep her inn and its guests safe. But the enemy she's facing is unlike anything she's ever encountered before. It's smart, vicious, and lethal, and putting herself between this creature and her neighbors might just cost her everything.
Review*:
I have a really odd relationship with Ilona Andrews books. I enjoy them, but I almost never rate one higher than 3 stars. I like them but just don't think they're all that great…but taken together, I always want another. They're like hard candies, not anything special but once you've had that first one you just want to keep popping them in your mouth until your tastebuds burn. That's me and Andrews. I don't think the books are great, but I always want another one. What am I supposed to do with that?
This is no exception. I thought it was a lot of fun, though bordering on utterly ridiculous and there were several too-coincidental-to-be-believed moments. But I liked all the characters; as always I appreciated the strong female and alpha male willing to let her lead, there are a ton of little easter eggs hidden in it and I'm already ready for the next one.
*Technically I read and reviewed this book in 2016, but I've just gotten around to reading the rest of the series and have brought this review forward for continuity.
---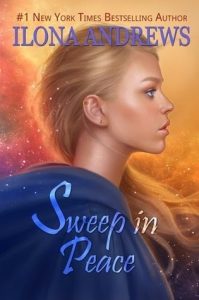 Description: 
Dina DeMille doesn't run your typical Bed and Breakfast. Her inn defies laws of physics, her fluffy dog is secretly a monster, and the only paying guest is a former Galactic tyrant with a price on her head. But the inn needs guests to thrive, and guests have been scarce, so when an Arbitrator shows up at Dina's door and asks her to host a peace summit between three warring species, she jumps on the chance.
Unfortunately, for Dina, keeping the peace between Space Vampires, the Hope-Crushing Horde, and the devious Merchants of Baha-char is much easier said than done. On top of keeping her guests from murdering each other, she must find a chef, remodel the inn…and risk everything, even her life, to save the man she might fall in love with. But then it's all in the day's work for an Innkeeper…
Review:
I didn't like it as much as book one, but still enjoyed it. I still like Dina and her inn-keeping. I still liked the writing and I'm still curious about the threads left open. I'll certainly be continuing the series. But if I thought book one walked the like of ridiculous, this one went full bore. And good lord, every little thing is described in such overwhelming and distracting detail that I wanted to beg characters not to change costume, so that I didn't have to suffer another page long description of their new clothing. But for the most part, this is classic Andrews for me, I didn't love it but I still want more.
---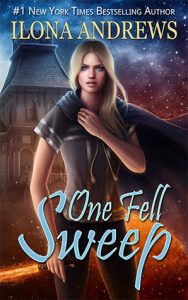 Description:
Gertrude Hunt, the nicest Bed and Breakfast in Red Deer, Texas, is glad to have you. We cater to particular kind of guests, the ones most people don't know about. The older lady sipping her Mello Yello is called Caldenia, although she prefers Your Grace. She has a sizable bounty on her head, so if you hear kinetic or laser fire, try not to stand close to the target. Our chef is a Quillonian. The claws are a little unsettling, but he is a consummate professional and truly is the best chef in the Galaxy. If you see a dark shadow in the orchard late at night, don't worry. Someone is patrolling the grounds. Do beware of our dog.
Your safety and comfort is our first priority. The inn and your host, Dina Demille, will defend you at all costs. We ask only that you mind other guests and conduct yourself in a polite manner.
Review:
I think I liked this one the best of the three, so far. For some reason, I erroneously thought this was a trilogy and the end of the series. So, I'm both disappointed to find it didn't wrap up and delight that there will be more. But I like that we saw familiar characters coming back together, instead of a barrage of new ones, and some important progression in Dina and Sean's relationship.
I did think some of the threats being planet-level was a little too much and all the jumping around the galaxy never seemed to take long enough. But I'll be looking for more of the Innkeeper Chronicles.