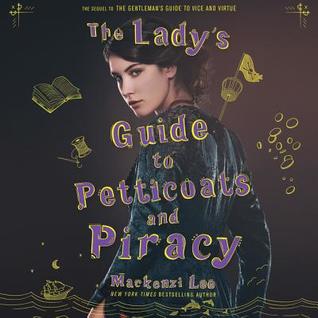 I borrowed an audio copy of Mackenzi Lee's The Lady's Guide to Petticoats and Piracy from my local library. I reviewed the first book in the series, The Gentleman's Guide to Vice and Virtue, last year.
Description from Goodreads:
A year after an accidentally whirlwind grand tour with her brother Monty, Felicity Montague has returned to England with two goals in mind—avoid the marriage proposal of a lovestruck suitor from Edinburgh and enroll in medical school. However, her intellect and passion will never be enough in the eyes of the administrators, who see men as the sole guardians of science.
But then a window of opportunity opens—a doctor she idolizes is marrying an old friend of hers in Germany. Felicity believes if she could meet this man he could change her future, but she has no money of her own to make the trip. Luckily, a mysterious young woman is willing to pay Felicity's way, so long as she's allowed to travel with Felicity disguised as her maid.
In spite of her suspicions, Felicity agrees, but once the girl's true motives are revealed, Felicity becomes part of a perilous quest that leads them from the German countryside to the promenades of Zurich to secrets lurking beneath the Atlantic.
Review:
I really wanted to like this a lot more than I did. Hmmm, that's not quite right. I actually did really quite like it. I liked the representation and diversity of the book. I liked the wit and writing in the book. I liked Moira Quirk's narration. I liked Felicity. I liked what she wanted and demanded in life. I liked that she was smart and determined and uncompromising.
I liked her feminism! But even as a staunch feminist myself, this same feminism was my biggest problem with the book and kept me from truly loving it. I'm not sure exactly how to explain this. Because I agree with Felicity 100% that she deserved to be allowed to study. That women deserved not to be stifled and protected from their own ambitions. But this is just such a modern ideal. It's not that there weren't women who strived to be more than mothers and wives, but Felicity kept acting as if she could reasonably expect different reactions from the men of society. That they, not her were the abnormal ones. The same society she had been raised in, with the same underlying mores. Most of her internal musings sounded horridly anachronistic to the time period the book is set in. It clashed jarringly. Eventually it started to feel like didactic lecture on what should be, instead of an engagement of what was (and to an extent still is). And in the end, undermined my ability to suspend my disbelief enough to truly immerse myself in the story.