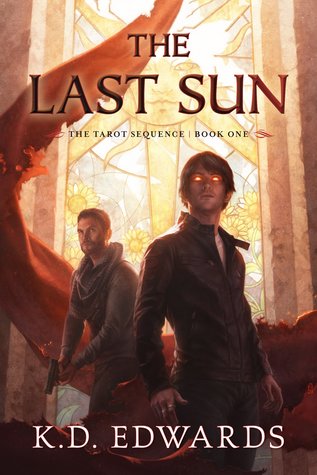 I bought a copy of The Las Sun, by K.D. Edwards.
Description from Goodreads:
Rune Saint John, last child of the fallen Sun Court, is hired to search for Lady Judgment's missing son, Addam, on New Atlantis, the island city where the Atlanteans moved after ordinary humans destroyed their original home.
With his companion and bodyguard, Brand, he questions Addam's relatives and business contacts through the highest ranks of the nobles of New Atlantis. But as they investigate, they uncover more than a missing man: a legendary creature connected to the secret of the massacre of Rune's Court.
In looking for Addam, can Rune find the truth behind his family's death and the torments of his past?
Review:
Finally! This week I've DNFed two book and given two others 2 star ratings. At last, I found a winner. I loved the wit and banter in this book. I adored the platonic love between Brand and Rune. I thought Quinn was adorable. There wasn't much to the mystery, but there was enough. When I finished this I immediately went to Amazon to try and buy the sequel and was disappointed to find it's not out yet.
I do have a bit of a trigger warning though. Rune has a traumatic rape in his past and it plays a big part in the book. There are no extended or graphic rape scenes, just a few flashbacks. But it's present enough in the book that I honestly don't think I'd have been able to finish it if Rune had been a heroine, instead of a hero. I don't mean to suggest any sort of hierarchy of victimhood. A male being raped is just as bad as a female, of course. But as a woman, I'm far more triggered by the closer relate-ability of a female character. And it would be a shame to have missed this book because of it. I can't wait for the sequel.