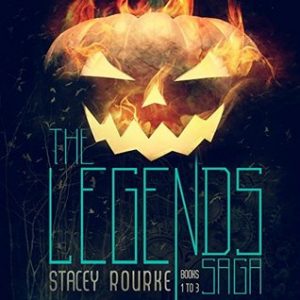 I received an Audible copy of Stacey Rourke's The Legends Saga Collection
for review.
Description from Goodreads:
The Horseman is unending, his presence shan't lessen.
If you break the curse, you become the legend.
Cursed by the malevolent spirit of the Headless Horseman, Ireland Crane seeks a way to break free from her soul crushing bond. Croaking ravens. Telltale hearts. Dizzying time travel. Coercive witchcraft. The lines between fact and fiction blur as the works of Washington Irving, Edgar Allen Poe, HG Wells, and Nathaniel Hawthorne come alive around her in this thrilling three book series: Crane , Raven , Steam.
Reviews:
Crane

Pretty good. I finished the book still confused about some of the hows and whys of both the Horseman and the ghosts' reenactments, it's a bit hand-wavy, but I enjoyed my time with the characters (Ireland more than Ichabod). The loves are both a tad too insta-love for me, but there were hints that there might be a reason for this (some draw) that will be revealed in future books, so I'll forgive it. The dialogue and writing were witty and the narrator did a nice job with them. I liked her voice for the modern characters a lot more than the historic ones, but I think some of the reason might have been because they were written to be more formal (fewer contractions and such). All in all, enjoyable and I look forward to more.
Raven

While not bad, I didn't enjoy this one anywhere near as much as the first. It picked up directly after the end of book one, but I generally felt like the characters randomly went to meet some guy, who randomly had a tragedy befall him, and they all randomly went about trying to save the day. I actually wondered if I'd missed a chapter or two in there at some point, because it seemed to jump about. It was still funny and the characters dropped lots of witty one-liners and I liked the pop culture references. Further, I listened to the Audio version and the narrator did a nice job. So, again, not bad, but a disappointment after book one.
Steam

I wouldn't go so far as to say this is bad, but I do feel like the series has run farther and farther off the tracks with each book. At the end of each subsequent book, I've been left with more questions than at the end of the previous one. As always, I thought Rourke's writing was easy to read (or listen to in my case, since I had the audio) and all the sarcasm and pop culture references are funny. But I never felt connected to this story. Why, the crew went along with Well's plan, for example, was a nagging question. Why introduce characters that were never more than props, was another. And I also thought that pulling the legends of the Horseman and Poe away from the mystical and giving them human(ish) origins diminished them. Basically, while finely written I just didn't like it very much.
Final thought:
All in all, I liked the books less and less as the series went on, but I started out liking it enough to never quite to dislike. The narrator, Karen Krause, did a good job with all of it though.