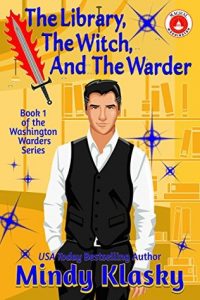 I'm on vacation this week, so my posts might not be regular. But I read a book and a half on the way here and I have internet connection at the moment, so, I'm taking advantage of it and posting a quick review or two.
I won a copy of Mindy Klasky's The Library, The Witch, and the Warder (Washington Warders) (Volume 1)
through LibraryThing.
Description from Goodreads:
Former warder David Montrose has a problem. Or two. Or three.
He's been fired from his job protecting the witches of Washington DC. Now, he's stuck working a dead-end job at Hecate's Court while he tries to redeem his reputation and put his life back together.
Which would be a decent plan if things weren't so…complicated. His new boss is a tyrant. His father says he's disgraced the family name. And instead of sympathizing, his best friend is trying to drag him onto the front lines of an all-out supernatural war.
Just as David gets a glimpse of the elusive work-life-magic balance, he's summoned back to warder status. His unexpected new charge is a captivating witch who possesses the strongest powers he's ever seen. David already has enough on his plate. How can he possibly juggle work, warfare, and warding Jane Madison?
He'd better figure things out soon. Jane's safety—and all of magical Washington—depends on him!
Review:
This was fluff, but enjoyable fluff. Don't go in expecting anything heavy or substantial, but just float along for the ride. Klasky has a fun writing style and I found myself liking all the characters. Though I did find some of it cheesy and cliche (the black cat familiar named Neko, the pocket protector/smudged glasses/bad fashion sense/pudgy antagonist), though I think some of that might have been purposeful on Klasky's part, playing with tropes.
This is labeled a cozy mystery, but with it's magic element I think it's a sort of urban fantasy, though not gritty enough to actually carry the title. For those looking for urban fantasy bordering on paranormal romance, look elsewhere. A warder and his witch is a platonic relationship, so no romance here (maybe later in the series going by the clues dropped, but not in this book). But I didn't feel denied. I like the way things turned out.
Lastly, this is apparently the flip perspective of Girl's Guide to Witchcraft. Meaning it's the same story from the male lead's perspective, while GGtW is from the female lead's perspective. This is normally something I dislike. Who wants to read the same story twice? But in this case I can see how it might work. Jane's situation is only a small part of what David has going on in this book. Honestly, if a quarter of the plot focuses on her I'd be surprised. So, there is plenty the reader doesn't see of Jane. I actually have GGtW. I think I picked it up as a freebie. So, if I ever get around to reading it, I'll update this review. But in the mean time I don't think the two would feel too redundant and The Library, the Witch, and the Warder doesn't make me want to avoid it.