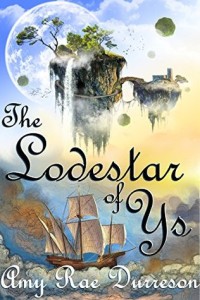 I picked up The Lodestar of Ys, by Amy Rae Durreson, at Amazon. At the time of posting it was still free.
Description from Goodreads:
Sjurd is convinced that Celyn of Ys is the most irritating man alive. It's a good thing that Celyn is engaged to Sjurd's brother, not him, because Sjurd loathes the brat, and it's quite mutual. When an elopement and the threat of invasion force the two princes together, however, they have no choice but to marry and fake true love to keep their countries safe. Can warrior Sjurd and diplomat Celyn find any common ground?
Review:
I found this really quite marvelous. I adored all of the characters, from start to finish. However, I also found it quite spare, with large chunks of time skipped over. I felt cheated out of what happened in those years. Similarly, I would have liked some resolution on the I & H issue. But for the most part, I just enjoyed my time I spent with this novel.
There also happens to be a free side story called Emry's Smile. It's from the same world, but with different characters, and I thought it was absolutely lovely. Durreson has made my watch list.