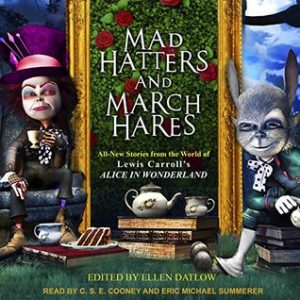 I won a copy of Mad Hatters and March Hares
 through Goodreads.
Description:
From master anthologist Ellen Datlow comes an all-original of weird tales inspired by the strangeness of Lewis Carroll's Alice's Adventures in Wonderland and Through the Looking-Glass and What Alice Found There.
Between the hallucinogenic, weird, imaginative wordplay and the brilliant mathematical puzzles and social satire, Alice has been read, enjoyed, and savored by every generation since its publication. Datlow asked eighteen of the most brilliant and acclaimed writers working today to dream up stories inspired by all the strange events and surreal characters found in Wonderland.
Featuring stories and poems from Seanan McGuire, Jane Yolen, Catherynne M. Valente, Delia Sherman, Genevieve Valentine, Priya Sharma, Stephen Graham Jones, Richard Bowes, Jeffrey Ford, Angela Slatter, Andy Duncan, C.S.E. Cooney, Matthew Kressel, Kris Dikeman, Jane Yolen, Kaaron Warren, Ysbeau Wilce, and Katherine Vaz.
Review:
I think it took me a decade to listen to all of these stories. Like most anthologies, I liked some of them quite a lot and others not so much. Some seemed to just take the excuse of being about wonderland to dash non-sense on a page and call it 'artistic.' The narrators did a lovely job though. I thought the male narrator (Summerer) was the better of the two.