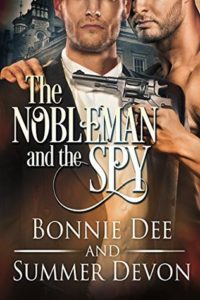 I bought a copy of The Nobleman and the Spy, by Bonnie Dee and Summer Devon.
Description from Goodreads:
They once faced each other on a battlefield. Now soldier-turned-spy Jonathan Reese must keep watch over the man he's never forgotten. A close encounter reveals Karl von Binder, the count's son, also recalls the day he spared Jonathan's life. Sparks fly between the former enemies and Jonathan begins to lose perspective on his mission. He knows he must maintain distance because the heat he encounters in Karl's touch stirs him far too deeply for his own good. He can't keep away–especially when he suspects someone is trying to kill the nobleman.
The spy becomes a protector as Jonathan guards the man he's begun to care for. Together the men try to puzzle out who would benefit from Karl's death—and how much they're willing to trust each other when a torrid sexual fling threatens to become an affair of the heart.
Review:
I enjoyed this as a nice bit of erotic fluff. The problem was I didn't expect it to be erotic fluff, but political intrigue and/or historical romance. As it turned out, the mystery and political machinations were all just decorations for the sex. To me, almost everything that happened happened in order to change the location for a new sex environment. That made the plot feel very shallow indeed. Plus, that first sexual encounter was extremely unbelievable.
What's more, I felt the relationship was almost instant and moved from lust to love equally as fast. These men were putting their lives in each-other's hands, over people they'd known for years, based on practically nothing—a passing on a battlefield years earlier. Similarly, while I liked both characters, I didn't feel I knew them well. I didn't understand the need for the subtle dom/sub aspect of the relationship. It was wholly non-contextual. And the ending felt rushed. So, while I didn't dislike it, in fact, I enjoyed the ride, I wasn't overly impressed.