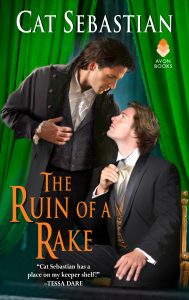 I won a copy of The Ruin of a Rake
, by Cat Sebastian in a Facebook giveaway. You can find my reviews of the first two books in the series here and here.
Description from Goodreads:
Rogue. Libertine. Rake. Lord Courtenay has been called many things and has never much cared. But after the publication of a salacious novel supposedly based on his exploits, he finds himself shunned from society. Unable to see his nephew, he is willing to do anything to improve his reputation, even if that means spending time with the most proper man in London.
Julian Medlock has spent years becoming the epitome of correct behavior. As far as he cares, if Courtenay finds himself in hot water, it's his own fault for behaving so badly—and being so blasted irresistible. But when Julian's sister asks him to rehabilitate Courtenay's image, Julian is forced to spend time with the man he loathes—and lusts after—most.
As Courtenay begins to yearn for a love he fears he doesn't deserve, Julian starts to understand how desire can drive a man to abandon all sense of propriety. But he has secrets he's determined to keep, because if the truth came out, it would ruin everyone he loves. Together, they must decide what they're willing to risk for love.
Review:
This was sweet and entertaining. I liked both the main characters, the writing was good, and it was fun to see the couples from The Soldier's Scoundrel
 and The Lawrence Browne Affair
make an appearance. But it was no where near as good as those first books, IMO. I found it repetitive and sloppy.
Also, as I said above, I won a copy from the author in a Facebook giveaway. I don't recall it being referred to as an ARC (it's been published 8 months), but I hope it was and I'm keeping the possibility open because there were quite a few editing mishaps. (The chance that it wasn't is why I mention it, instead of just chocking it up to being an ARC.)
All in all, If I hadn't read book one and two and wasn't comparing this one to them, I might have liked it more than I did. (Keeping in mind that I didn't actually dislike it.) I'll no doubt read more of Sebastian's writing. This just might not ever be one of my favorites.