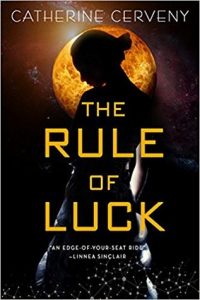 I borrowed a copy of Catherine Cerveny's The Rule of Luck for my local library.
Description from Goodreads:
Year 2950. Humanity has survived devastating climate shifts and four world wars, coming out stronger and smarter than ever. Incredible technology is available to all, and enhancements to appearance, intelligence, and physical ability are commonplace.
In this future, Felicia Sevigny has built her fame reading the futures of others.
Alexei Petriv, the most dangerous man in the TriSystem, will trust only Felicia to read his cards. But the future she sees is darker than either of them could ever have imagined. A future that pits them against an all-knowing government, almost superhuman criminals, and something from Felicia's past that she could never have predicted, but that could be the key to saving — or destroying — them all.
Review:
Generally enjoyable, I liked how much Felicia stood up for herself and showed anger for her mistreatments at Alexei's hand. And there were a lot of them. So many in fact that, even by the end, I had a hard time letting go and rooting for them as a pair. This was exasperated by the fact that the sort of love/lust developing is based on something other than who they are as people. (Think fated mates, but not.) This always annoys me, because it makes them interchangeable with anyone else who fills that demographic.
All in all, however, I liked Cerveny's writing and the book itself. I'm not sure if I'm up for more of this series, but I'm sure interested in more of Cerveny's writing.