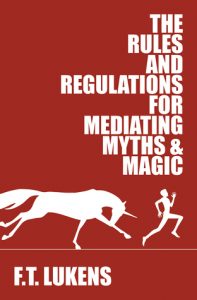 I received a copy of The Rules and Regulations for Mediating Myths & Magic, by F.T. Lukens through Netgalley.
Description from Goodreads:
Desperate to pay for college, Bridger Whitt is willing to overlook the peculiarities of his new job—entering via the roof, the weird stacks of old books and even older scrolls, the seemingly incorporeal voices he hears from time to time—but it's pretty hard to ignore being pulled under Lake Michigan by… mermaids? Worse yet, this happens in front of his new crush, Leo, the dreamy football star who just moved to town.
Fantastic.
When he discovers his eccentric employer Pavel Chudinov is an intermediary between the human world and its myths, Bridger is plunged into a world of pixies, werewolves, and Sasquatch. The realm of myths and magic is growing increasingly unstable, and it is up to Bridger to ascertain the cause of the chaos, eliminate the problem, and help his boss keep the real world from finding the world of myths.
Review:
Super cute, I mean it's a little ridiculous too, but utterly adorable. I thought the characters had realistic young adult, coming into themselves sort of problems that they handled well. I thought the couple was too cute for words. I liked the side characters. I thought the fantasy aspect of the book was engaging and interesting. And I thought it was funny. Granted, some of the humor was of the slapstick, silly sort. But still I enjoyed it. A rare, all around win for me.
On a side note, if you hurry, there's even a giveaway to win a copy. It ends Sept. 30th.