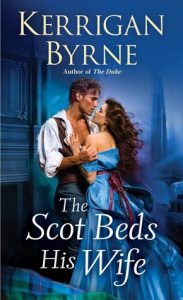 I won a copy of Kerrigan Byrne's The Scot Beds His Wife through Goodreads:
Description:
Gavin St. James, Earl of Thorne, is a notorious Highlander and an unrelenting Lothario who uses his slightly menacing charm to get what he wants—including too many women married to other men. But now, Gavin wants to put his shady past behind him…more or less. When a fiery lass who is the heiress to the land he wishes to possess drops into his lap, he sees a perfectly delicious opportunity…
A marriage most convenient
Samantha Masters has come back to Scotland, in a pair of trousers, and with a whole world of dangerous secrets from her time spent in the Wild West trailing behind her. Her only hope of protection is to marry—and to do so quickly. Gavin is only too willing to provide that service for someone he finds so disturbingly irresistible. But even as danger approaches, what begins as a scandalous proposition slowly turns into an all-consuming passion. And Gavin discovers that he will do whatever is necessary to keep the woman he has claimed as his own…
Review:
This book had a lot against it when I started it. It isn't a genre I naturally gravitate toward, I tend to avoid books with 'bodice ripper' covers, and it's 5th in a series. (Though I didn't realize this last point until I'd already started it.) Despite all that I found I mostly enjoyed it.
I won't claim to have loved it. It did still have several of the elements I dislike so about the genre in general. Like the scene where the heroine is angry and the hero shuts her up by grabbing her roughly, trapping her hands and kissing her against her will. The heroine then of course melts into him and kisses him back instead of being righteously angry for the assault. (God, how many such books have the same exact scene in them? Is it somehow required?)
Those like me who haven't read the rest of the series, know that I followed it just fine. The writing is perfectly readable and the editing seems clean. I did think there were some inconsistencies in some of the characters, but on the other hand, I very much appreciated the presence of an elderly, monogamous gay couple. All in all, about the best I could hope for from a book that started with so many demerits.